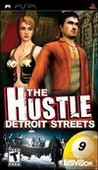 Summary:

The Hustle: Detroit Streets lets players take on the role of either Jack Stone or Kat Hudson as they make their way through the pool halls and clubs of Detroit. Players hone their pool skills and work their way to the top of the pool circuit through two different game modes - single-player s

tory mode, playing as either Jack or Kat in their quest for respect and cash, or single-player single game, where they can practice their skills by playing one-off matches against AI opponents. Additionally, for the PSP system, players can play pool using multiplayer and multiplayer over Wi-Fi where they can try to run the table against other gaming pool sharks. All of the modes feature a number of trickshots and challenges, which allow players to earn prize money, face off against other players and buy new items such as clothes and cues at local shops. Players make their money gambling on their own matches, hustling, betting on shots (spot betting) and betting on other pool matches. As players progress through the game and meet certain criteria, different game play modes and items are unlocked. Challenges, new venues, different clothes and characters unique to each venue become available as players climb their way to the top of their pool game. [Activision]

…

Expand
Developer:

Blade Interactive

Genre(s):

Parlor Games

# of players:

1-2

Cheats:

On GameFAQs

Rating:

T
The Hustle had such an opportunity to finally bring something fresh to the sports genre, especially for pool, something to sink your teeth into, really get involved in. However, as is usually the case, developers seem to cock up, make hideous technical errors and destroy whatever amazing concept for the game that they first had. Waiting through horrendous loading times to play what seems to be a choppy, half-arsed experience is not worth the wait.

A valiant attempt at bringing a quality pool game to the PSP, but between the load times and the clunky shot procedures most of the fun is quickly sapped out of this title.

The Hustle gets overly cute with its story mode, and the pacing is achingly slow, but the pool itself can be fairly fun.