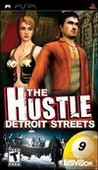 Summary:
The Hustle: Detroit Streets lets players take on the role of either Jack Stone or Kat Hudson as they make their way through the pool halls and clubs of Detroit. Players hone their pool skills and work their way to the top of the pool circuit through two different game modes - single-player story mode, playing as either Jack or Kat in their quest for respect and cash, or single-player single game, where they can practice their skills by playing one-off matches against AI opponents. Additionally, for the PSP system, players can play pool using multiplayer and multiplayer over Wi-Fi where they can try to run the table against other gaming pool sharks. All of the modes feature a number of trickshots and challenges, which allow players to earn prize money, face off against other players and buy new items such as clothes and cues at local shops. Players make their money gambling on their own matches, hustling, betting on shots (spot betting) and betting on other pool matches. As players progress through the game and meet certain criteria, different game play modes and items are unlocked. Challenges, new venues, different clothes and characters unique to each venue become available as players climb their way to the top of their pool game. [Activision]
| | |
| --- | --- |
| Rating: | T |
| Developer: | Blade Interactive |
| Genre(s): | Parlor Games |
| Number of Players: | 1-2 Players |
| ESRB Descriptors: | Blood, Language, Simulated Gambling, Violence |
| Offline Modes: | Competitive |
| Connectivity: | Wi-Fi |
Designer/Producer/Programmer credits provided by
GameFAQs
.
If you contributed to this game and feel you should be be credited, please read our
FAQ
.