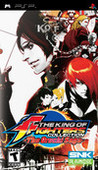 Summary:

The first ever collection of THE KING OF FIGHTERS, consisting of 5 complete games. KOF 94, 95, 96, 97, 98. [SNK Playmore]
Developer:

SNK Playmore

Genre(s):

Fighting Games

Cheats:

On GameFAQs

Rating:

T
All in all, for a mere $30, whether on your PSP or PS2, The King of Fighters Collection: The Orochi Saga is a fantastic deal for a series of fantastic games.

The main advantage of the portable version is how sharp the sprites look on screen, but I'd still say console is the way to go.

It's a shame that technical issues hold KOF: Orochi Saga back so much, because it's a collection with a heck of a lot of potential.

The lack of a versus mode is a gross oversight that makes versus battles an uncomfortable chore (the winner can't switch characters without resetting the entire game -- just like in the arcades!).