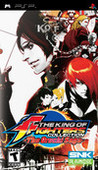 Summary:

The first ever collection of THE KING OF FIGHTERS, consisting of 5 complete games. KOF 94, 95, 96, 97, 98. [SNK Playmore]

Developer:

SNK Playmore

Genre(s):

Fighting Games

Cheats:

On GameFAQs

Rating:

T
All in all, for a mere $30, whether on your PSP or PS2, The King of Fighters Collection: The Orochi Saga is a fantastic deal for a series of fantastic games.

The King of Fighters Collection includes five great games, all of which are real classic fighters that still play great today.

While I'm glad to get five games for a price that's typically less than the cost of a new title, I also have to admit that some of the titles in King of the Fighters: The Orochi Saga are a bit redundant.

So no version is perfect, but the faster loading makes the Wii version the best choice, provided you've got the right controllers on-hand.

There might be five games with a lot of unlockable content in this compilation, but the long loading times and the dull multiplayer part ruin a lot of the fun.

The lack of a versus mode is a gross oversight that makes versus battles an uncomfortable chore (the winner can't switch characters without resetting the entire game -- just like in the arcades!).