Publisher:

EA Sports

Release Date:

Mar 23, 2005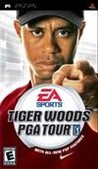 Summary:

Classic Courses: Play against opponents on a mix of 12 top courses including Sherwood Country Club, Pebble Beach, Harbor Town and Paradise Cove. All of these stunning courses are from Tiger Woods PGA Tour 2004 and 2005. Legend TOUR: Compete against the pros from past and present in mix & mat

ch play events, tournaments and challenge modes, proving you've got what it takes to become a legend of the game. Head-to-Head Golf: Take on your friends in a range of new modes specifically designed for Wi-Fi. Play wireless multiplayer match ups complete with stat tracking & wagering. With this feature it's all about bragging rights and earning cash points to upgrade your golfer. New Ways to Play Golf: Brand new game modes that capitalize on the cutting-edge hardware features of the PSP and deliver a highly competitive gameplay experience. [Electronic Arts]

…

Expand
Developer:

EA Canada

Genre(s):

Golf

# of players:

1-4

Cheats:

On GameFAQs

Rating:

E
Tiger PSP is one of those games that you need to buy on this handheld whether you like sports games or not, as it showcases what possibilities lay within the PSP.

Despite a few rough edges (blurred textures, loading pauses galore, etc.) this is easily the best licensed golf simulation ever released on a portable console.

I totally love this game. I could rate it higher if not for some terribly slow load times and putting problems.

It has the players, the courses, the intuitive control system, the amusing commentary and loads and loads and loads of options. But, to put it in simple terms, "Hot Shots Golf" is better.
Perfect in everyway! This game is super fun and never gets old everytime you play it!!

The best game for the PSP thus far. I think they actually *improved* on the last gen console versions (Tiger Vision putting is a welcome abse

nce). Challenging, well thought out, and thoroughly addictive.

…

Expand

Great game, Golf sim at its finest...just a shame it arrived at the same time as FIFA, for me I have not played this enough...

I think the interface and graphics are great - they hold up well to the XBox, but while the XBox is wayyy too easy, this is insanely difficul

t. I can't even beat the second golfer (who's not supposed to be that great) because he rarely messes up - unlike the past few console versions. I'll never play this game again unfortunately.

…

Expand