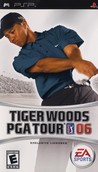 Summary:
Prove yourself as the greatest golfer of all time by taking on the legends in the prime of their careers -- on their terms. Do you have what it takes to beat Jack Nicklaus in his heyday with a bag full of wooden clubs or Tiger Woods with his modern-day equipment? For the first time, both analog sticks control each shot from tee to green. The left analog stick controls your swing, and the right analog Shape Stick dictates ball trajectory and putt strength. Back your challenges with wagers before any shot or round. Bigger odds are given to special accomplishments, so reap the largest rewards for nailing the toughest shots. Experience 15 beautifully detailed courses including Pebble Beach Golf Links, St Andrews, Reflection Bay, Doral Golf Resort, and more as you play as or against Tiger Woods and 16 other PGA TOUR players, including the newly added Chris DiMarco, Mike Weir, Ian Poulter, and Luke Donald. New Gamebreaker Meter: Build confidence to trigger Gamebreaker situations, and boost your power and accuracy by making great shots and posting low scores. [Electronic Arts]
| | |
| --- | --- |
| Rating: | E |
| Developer: | Team Fusion |
| Genre(s): | Golf |
| Number of Players: | 1-4 Players |
| License: | Major League Sport |
| Offline Modes: | Competitive |
| Connectivity: | Wi-Fi |
| Cast | Credit |
| --- | --- |
| Himself | Voice: Tiger Woods |
Designer/Producer/Programmer credits provided by
GameFAQs
.
If you contributed to this game and feel you should be credited, please read our
FAQ
.