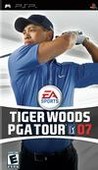 Summary:

Tiger Woods Comes Alive — See and feel every emotion in complete detail with the introduction of all-new Universal Capture (UCAP) technology. Play Under Pressure — With bigger galleries, mass crowd movement from hole to hole, and cheers from nearby greens, all eyes are on you in tournament

Tiger Woods Comes Alive — See and feel every emotion in complete detail with the introduction of all-new Universal Capture (UCAP) technology. Play Under Pressure — With bigger galleries, mass crowd movement from hole to hole, and cheers from nearby greens, all eyes are on you in tournament play. Enhanced Career Mode — From working on your driving to mastering your putting skills, craft your game with training challenges in the Practice Facility, then take on the world's best golfers on the World Tour. All-New Championship Courses — The course content doubles with the addition of new licensed courses, including Firestone Country Club, Glen Abbey, Princeville, Spyglass Hill, St Andrews, and Bandon Dunes. The game features 15 of the world's top players, including Tiger Woods, John Daly, Vijay Singh, Ian Poulter, Michael Campbell, and Annika Sorenstam, the most decorated golfer on the LPGA Tour. Show Your GameFace — The innovative character creation tool is revamped with deeper modifications, more apparel, equipment licenses, and specialty items. Challenge up to three players in five new game modes, or play in online tournaments complete with money lists, full stat tracking, league leaders, and more. More Game Modes — Work on your game or take on a friend in Match Play, Battle Golf, 21, OneBall, and more. [EA Sports]

…

Expand
Developer:

Team Fusion

Genre(s):

Sports

,

Traditional

,

Individual

,

Golf

,

Sim

,

Sim

# of players:

1-4

Cheats:

On GameFAQs

Rating:

E
Although it's on a handheld system, Tiger Woods PGA Tour 2007 is a massive game and a real improvement over the previous titles for the PSP. The graphics are stunning.

First and foremost, Tiger Woods 07 offers the best swing controls in the league. No game released thus far can compare.

It certainly isn't a hole-in-one for the Tiger Woods PGA Tour series gone portable, but with the career mode and enhanced online play more than making up for lackluster graphics and a dearth of mini-games (although there's still a plethora of other golf-game modes), Tiger Woods PGA Tour 07 still makes the cut as the best PSP golfing game around.

The most complete and deep handheld golf game I have ever played - but it isn't the most fun. Compared to the excellent PSP version of Hot Shots Gold, Tiger Woods feels a bit dry and flat.

As a total package, it's hard to find many cracks in Tiger Woods 07. The game looks just about as good as its PS2 counterpart, has appealing style and presentation, and plays the part of genre-leader with aplomb.

Official Playstation 2 Magazine UK

EA's quality sim expands on PSP to include a deep career mode and online play. A "fairway" ahead of its competitors. [Dec 2006, p.95]

Tiger Woods PGA Tour 07 is the best Tiger Wood's game on the PSP, but it's not all that different from it's predecessor.
Suberb graphics! The visuals are as nice as the consoles. Gameplay hasn't changed much but the new PGA mode is a big bonus. Again,

Suberb graphics! The visuals are as nice as the consoles. Gameplay hasn't changed much but the new PGA mode is a big bonus. Again, wicked work on the art direction EA!

…

Expand

Tiger Woods PGA Tour 07 is very addictive and is almost everything I believe a golf game should be. That said, when playing in career mode,

Tiger Woods PGA Tour 07 is very addictive and is almost everything I believe a golf game should be. That said, when playing in career mode, once you get about half-way through your 3-year career it becomes a bit more tedious and less challenging. The learning curve was quite steep in the beginning, but once you've mastered your accuracy and putting, the game becomes a lot less difficult. The more events/tournaments you win, the more items you unlock for purchase and the more points you get to put towards your attributes. You can also restart tournament events that you aren't doing so well in, so that you can replay the event until you come out on top (which earns you the most money for attribute-enhancing clothing/clubs/etc.). The problem with being able to restart the events is that you will top out all of your attributes and make more money than you can possibly spend by the time you have finished roughly 12-16 months of your 36-month career. Another small niggle I noticed straight away is the fact that while you can hear the crowd cheering when you make a particularly great shot, you never see any crowd around you. This may sound silly, but it takes something away from the game. I will hear the raucous cheer for my tee shot, but the area surrounding me is completely devoid of people. Strange. What keeps me coming back to this game is the great scenery and the need to master this game and be the best virtual golfer I can be. Tiger Woods PGA Tour 07 gets most of it right, and it instills a desire to master the game. If you have a competetive streak in you and enjoy sports genre gaming, this game should definitely be in your PSP collection. There is some good replay value to be had from the mini-games and multi-player modes included as well. Because Metacritic does not allow half ratings, I will say that I believe this game is actually more of an 8.5, rather than just an 8.

…

Expand