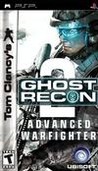 Summary:

Tom Clancy's Ghost Recon Advanced Warfighter 2 builds off of the events in the first game and places gamers in control of the U.S. military's elite fighting unit, the Ghosts. In the year 2014, the rising conflict between Mexican loyalists and insurgent rebel forces has thrown Mexico into ful

l-scale civil war. Under the command of Captain Scott Mitchell, the Ghosts are called upon to face an imminent threat to the United States. The fate of two countries now lies in the hands of the Ghosts as they fend off an attack on U.S. soil. Equipped with the most cutting-edge weaponry and technology, the Ghosts must battle on both sides of the border to neutralize the escalating rebel threat. The Ghosts will battle enemies in mountain terrains, barren deserts and even on their home turf in El Paso, Texas. Each environment presents its own benefits and challenges and will call for fresh tactical approaches. Vastly Improved Artificial Intelligence (AI): Watch your back as rebels send their own team members to flank your position or gain vantage points by utilizing vertical gameplay to pick you off from the rooftops above. Improved squad-mate AI will now feed you more of the information you need with descriptive commands. The revolutionary new Cross-Com 2.0 will give the player more information than ever before. You will be able to see what your friendly forces see in the top left display and the click of a button will expand that to full-screen view for a clearer and more precise picture. Command lethal air strikes with jet fighters, gain mobile cover for otherwise impassable situations and replenish armaments on the battlefield using an unmanned artillery MULE. Players can now heal their team on the battlefield, including squad leader Scott Mitchell, with an all-new Medic class of soldier. [Ubisoft]

…

Expand
Developer:

High Voltage Software, Ubisoft Paris

Genre(s):

Tactical Shooters

# of players:

2 Online

Cheats:

On GameFAQs

Rating:

T
A brilliant introduction to the GRAW series, this is intelligent, exhilarating portable gaming at its best. While it lasts.

The scaled-down version of the Ghost Recon Advanced Warfighter console games is a fun little shooter in its own right.

It is far from perfect, but if gamers need some tactical action away from their living rooms, GRAW 2 definitely satisfies.
An excellent port. Some draw distance issues and overuse of bloom effects, but a solid game for the PSP.

(for the non-english-speakers metacritics fans) El manejo con la camara es una de sus mejores cualidades, las diferentes armas, el modo co-op

y la jugabilidad en las batallas hacen de este juego una buena inversion. es verdad que no se compara a la version de una consola completa, pero considerando que es para un portatil, vale la pena el probarlo.

…

Expand

First thing I have never played the console version of GRAW. The PSP experience is my first, and based on the PSP game I will love to purchas

e the console counterpart. With the lack of the back against wall system I can understand where some may feel as though this version is watered down. However it's still a good game. My issues with most if not ALL PSP game reviews. The reviewers treat the game as a console game yet blame the handheld system for it's short comings, which i believe is counter productive. There are DS games out there that are so simple they might as well give them to you for free yet people pay for them and give them great praise. In short this is a good game it's not the same as the console versions because its not on a console. I like it alot and the only thing missing is online play, you're given co-op for the missions but thats about it. You still have drone control, and can call air strikes.

…

Expand

Its ok, i didnt realize when i bought this game that it was only single player or ad hoc... the graphics are amazing for the PSP but it reall

y lacks replay ability by not including Infastructure play like all of the other GRAW 2 games. I wouldnt recommend buying this.

…

Expand