Publisher:

Ubisoft

Release Date:

Nov 16, 2010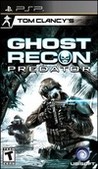 Summary:

Deep in the jungles of Sri Lanka, the Ghosts have 72 hours to prepare the way for a U.S. invasion force. As open conflict with Pakistan looms, the Ghosts uncover proof that they've been targeting the wrong enemy. Now they must act before falsified intelligence lures America into an

Deep in the jungles of Sri Lanka, the Ghosts have 72 hours to prepare the way for a U.S. invasion force. As open conflict with Pakistan looms, the Ghosts uncover proof that they've been targeting the wrong enemy. Now they must act before falsified intelligence lures America into an unpredictable and devastating war.

…

Collapse

Developer:

Virtuos

Genre(s):

Modern

Cheats:

On GameFAQs

Rating:

T
This is just an average action game, with more shootin than tactics, which has some positive details like the number of missions and its variety, but also negative ones like a bad AI and a too complex control system.

Tom Clancy's Ghost Recon Predator is a game with some good potential that comes partially limited from some structural defects. The missions don't have varied enough objectives, the artificial intelligence of the enemies is insufficient and the level of difficulty is sometimes frustrating. But fans of tactical shooters will find some enjoyment out of the game, such as the multiplayer mode. Ultimately it's not a bad game but not a masterpiece either.

Although its visuals aren't surely stunning and its campaign will only last a few hours, Predator proves to be a decent debut for the series on PSP. Developers will however need to enhance the experience to meet the standards of the console iterations of the franchise.

Technical engine is creepy, enemy A.I. fails, and the multiplayer option is boring and badly developed.

One of the glaring problems with Tom Clancy's Ghost Recon Predator is that it becomes more taxing to play the longer that you are on the device; specifically due to the cramped, confusing feeling of the control scheme.
Published:

April 13, 2010

How does the newest Splinter Cell game compare to previous titles in the series, and to other Tom Clancy games? Check out our rankings.