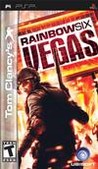 Summary:

The PSP version features exclusive new content and all-new characters as Las Vegas finds itself in chaos and Rainbow operatives are forced to defend one of the most recognizable cities in the world. The future of Las Vegas and global security is in your hands... will you be able to save

Vegas? New Team, New Location – Two new Rainbow operatives enter the impending doom that is Las Vegas as their console brethren, Keller, Park and Walter, simultaneously work against the clock to save "Sin City." As Brian Armstrong, work as a field operative and assault expert, taking down tangos from the ground floor. As Shawn Rivers, use your sniper and long-range shooting skills to pick off terrorists from above, one at a time. Tag-Team Gameplay – In single-player mode, play as both a field operative and sniper as you battle to protect the innocent from carnage. Observe - Plan - Assault – Use tactical planning to maneuver through Vegas environments while utilizing high-tech equipment like snake cams to strategically "tag" terrorists prior to entering a room. Take Cover – When the action heats up, switch to third-person view while taking cover, giving you time to examine the situation before making your move. Tailored Control System – Shoot your way out of relentless gun battles utilizing a tailored control system built specifically for the PSP system. Player Rewards – Build up your stats to unlock exclusive Rainbow Six Vegas content, including concept art and the feverish Terrorist Hunt mode. Terrorist Hunt Mode – Hone your skills in Terrorist Hunt mode, where your objective is simple – kill the terrorists. Enter specific points of single-player maps and down the spawning terrorists one at a time. Multiplayer – Take the fight to five of your closest friends via wireless (Ad Hoc) or online play (Infrastructure) in Survival and Team Survival multiplayer modes, while exploring six classic Rainbow Six maps. [Ubisoft]

…

Expand

Developer:

Ubisoft Montreal

Genre(s):

Modern

# of players:

4 Online

Cheats:

On GameFAQs

Rating:

T
Rainbow Six Vegas is a fine portable shooter.

Sadly it's a little too short with a lack of replay value, but you'd be hard pushed to find a title with better production values on the PSP. [Issue#156, p.85]

I totally enjoyed the new characters, new parallel storyline, new locations, and exciting gameplay. Sure it was too easy at times, but there were also some areas where things got downright nasty, but in the end, Vegas on the PSP is a great addition to the Rainbow franchise.

In the graveyard of first-person shooters for the PSP, Rainbow Six Vegas is just one more for the crap-heap.

Over complicated and visually lacklustre - this is a disappointing outing for Rainbow Six. Stick with "Medal of Honor Heroes." [Jan 2007, p.76]

Goes all-in with its action-packed shooter gameplay, but a short campaign, limited multiplayer support, and a stack of shortcomings call its bluff.

Movement is on the analogue nub, camera controls on the face buttons. It's a system that has worked okay for other PSP shooters, but there's a stiffness here that makes it feel more like Super Treacle Squad than a simulation of impeccably-trained Special Ops.