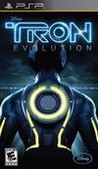 User Score
tbd
No user score yet- Awaiting 3 more ratings
Summary:
TRON: Evolution is an immersive 3rd person action-adventure game that pulls the player into the unique digital world of TRON. Gamers explore TRON's cities using the free running phenomenon Parkour, navigate among unique rebel factions, and fight an epic battle against a dictator's seemingly unstoppable army in the prequel story to the blockbuster film, TRON: Legacy.
Designer/Producer/Programmer credits provided by
GameFAQs
.
If you contributed to this game and feel you should be be credited, please read our
FAQ
.