Publisher:

SCEA

Release Date:

Mar 24, 2005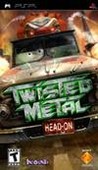 Summary:

Complete with all the fast-paced vehicular combat and destruction that gamers have come to know and love, Twisted Metal: Head-On allows gamers to take destruction anywhere, anytime as they strap themselves into one of 14 lethal machines on wheels, equipped with machine guns, turbo boost and

a special attack, unique to each vehicle. Once a vehicle is selected, gamers can take their road rage out on opponents in 12 unworldly arenas filled with numerous items of chaos including rockets, missiles and more. In addition, multiplayer gameplay is available for to eight players through Wireless multiplayer connectivity. [SCEA]

…

Expand
Developer:

Incognito Inc.

Genre(s):

Car Combat

# of players:

6 Online

Cheats:

On GameFAQs

Rating:

T
If you have ever been a fan of the Twisted Metal series, then getting this game is a no-brainer. It's easily one of the best in the series and gives fans pretty much everything they've wanted out of the series.

The single-player offering is incredibly fun, and the multiplayer bouts bring limitless depth and couldn't be much more contagious. [May 2005, p.128]

The simple explanation for what makes this game rock is that it just plain looks, feels, and plays remarkably like its full-sized siblings. [May 2005, p.84]

Fast, fun, and incredibly playable, it's an ideal portable game. It looks sharp, and the inclusion of free Internet play is just what the system needs.

It is still pretty stunning to me that I can lay on my couch with a wireless hand-held and play total strangers from across the globe.

The portability of this title increases the fun factor up a few notches, not to mention the online aspect of the game.

Flaws such as button layout, poor targeting and matches that go on forever make this disappointingly average. [Nov 2006, p.155]
This is an all out great game if you like cars and action. everything they had in all the other twisted metals plus lots more. i strongly rec

ommend buying this game!

…

Expand

I've been playing it both online and off, wifi, adhoc, story, CO-OP (contrary to IGN) since release and all I can say is DAMN. this is a

DEEP game for a launch title. buy it!

…

Expand

Very fun entertaning game.

This game is awesome the only thing i thought was boring is the story mode i got it 2 days before i beat it but other wise this game is the b

est twisted metal game ever.

…

Expand

a new twisted metal game for the PSP thats alot of fun . theres alot of vehucles and unlockable vehicles to play as. very nice level set ups.

a online mode which is now shut down but still playable with adhoc. nothing much new that pushes the series foward after 9 years but its still alot of fun . tower tooth is abit cheap with attacks that just level you way to fast. controls are decent but not great . the game is abit short . regaurdless if you are a old school fan of TM then you should get this game . even if you are not its one to check out.

…

Expand

Fun for a while, then it gets VERY boring and repetitive. Bad replay value and the extra modes all suck.