Publisher:

SCEA

Release Date:

Mar 24, 2005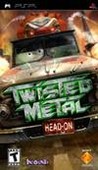 Summary:

Complete with all the fast-paced vehicular combat and destruction that gamers have come to know and love, Twisted Metal: Head-On allows gamers to take destruction anywhere, anytime as they strap themselves into one of 14 lethal machines on wheels, equipped with machine guns, turbo boost and

a special attack, unique to each vehicle. Once a vehicle is selected, gamers can take their road rage out on opponents in 12 unworldly arenas filled with numerous items of chaos including rockets, missiles and more. In addition, multiplayer gameplay is available for to eight players through Wireless multiplayer connectivity. [SCEA]

…

Expand
Developer:

Incognito Inc.

Genre(s):

Car Combat

# of players:

6 Online

Cheats:

On GameFAQs

Rating:

T
If you have ever been a fan of the Twisted Metal series, then getting this game is a no-brainer. It's easily one of the best in the series and gives fans pretty much everything they've wanted out of the series.

The simple explanation for what makes this game rock is that it just plain looks, feels, and plays remarkably like its full-sized siblings. [May 2005, p.84]

A colorful cast of characters, a great presentation, exciting shooting action, and support for wireless multiplayer competition over the Internet combine to make this game one of the safest bets you can place when choosing your first PSP games.

Twisted Metal: Head On isn't anything new, but amongst all the driving games on the PSP sometimes it is fun to play a racer than doesn't take itself so seriously.
This is an all out great game if you like cars and action. everything they had in all the other twisted metals plus lots more. i strongly rec

ommend buying this game!

…

Expand

a new twisted metal game for the PSP thats alot of fun . theres alot of vehucles and unlockable vehicles to play as. very nice level set ups.

a online mode which is now shut down but still playable with adhoc. nothing much new that pushes the series foward after 9 years but its still alot of fun . tower tooth is abit cheap with attacks that just level you way to fast. controls are decent but not great . the game is abit short . regaurdless if you are a old school fan of TM then you should get this game . even if you are not its one to check out.

…

Expand

The levels are great, the cars are great, and the graphics are great, but the controlls suck.

I'm going to be honest when I review this, Twisted Metal: Head-On isn't anywhere as good as any other Twisted Metal game. The controls are flo

aty and the graphics are poor when compared to other games on the PSP such as Burnout legends. Burnout legends is the perfect game for me to compare with Twisted metal because of its gameplay. Fast, tense, aggressive, explosions, its a damn good game. Now Head-on is not like that, its slow, way too lose in gameplay, dull and the explosions are somewhat not impressive. This is not a good game, no matter how you serve it.

…

Expand