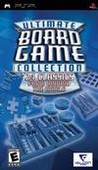 Summary:

Ultimate Board Game Collection contains 20 classic board and table top games that have been played by countless families around the world. Games included are Chess, Quatro, Checkers, Enigma, Backgammon, Reversi, Snakes & Ladders, Naval Battle, Parcheesi, Dice, Dominoes, Go, Chinese Checkers,

Ultimate Board Game Collection contains 20 classic board and table top games that have been played by countless families around the world. Games included are Chess, Quatro, Checkers, Enigma, Backgammon, Reversi, Snakes & Ladders, Naval Battle, Parcheesi, Dice, Dominoes, Go, Chinese Checkers, Word Cubes, Mahjong Solitaire, Anagrams, Concentration, 3D Tic-Tac-Toe, Mancala and Jigsaws. Customize each game by selecting different rules, environments, piece type etc. Play against the CPU or another player, depending on the game. User selectable sound track, chose from 4 different styles. CPU opponent has multiple difficulty levels. Includes 100 different Jigsaw pictures.

…

Expand
Developer:

Jack of All Games

Genre(s):

Miscellaneous

,

Board Games

,

Board Games

,

Board / Card Game

# of players:

1-6

Cheats:

On GameFAQs

Rating:

E
If you log some hours with the game, you'll get to be pretty good at these classics. That way when you do finally get to grandma's house, you can show her who is boss and win some cookies out of her.

Ultimate Board Game Collection is a decent game, but it's still a little bit overpriced for our liking.

I cannot fault this collection for having some games I could find boring. But I don't mind giving an average score to a collection which aimed only for the bare-bones of success.

With the exception of Dice, these games are likely to put you to sleep.

With nothing like 42 All-Time Classics' meta-game structure to compel you through each game at increasing difficulties, there's no greater purpose to scoring victories in the single-player 'campaign'.

While a few of these games may have some value when played with friends, fans of board games may as well stick to actually playing board games.