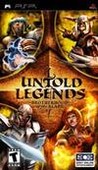 Summary:

Journey to a fantasy world beyond the realms of imagination and engage in battles to save Aven, a timeless city of safe haven and the last remaining stronghold for your people. As a dark threat looms and the gathering of unknown forces grows ever so stronger, heroes have been called and the

Brotherhood of the Blade must be formed. It is up to you and your chosen Brothers to venture out into the wilds and barren regions beyond the walls of Aven to unravel the mysteries of this looming peril. Untold Legends: Brotherhood of the Blade is a hack 'n slash action adventure available exclusively for the PSP. Experience RPG action, fantasy adventure and wireless multiplayer fun in beautiful 3D environments as you select from four unique character classes to battle powerful creatures and unravel the mysteries of an ancient planet. [Sony Online Entertainment]

…

Expand
Developer:

Sony Online Entertainment

Genre(s):

Role-Playing

# of players:

1-4

Cheats:

On GameFAQs

Rating:

T
This dazzling little gem for the small screen is one of the best in the first crop of games for Sony's new PSP. It's everything a handheld adventure should be: easy to see, easy to play, fun to play alone or with other people and strikingly detailed.

The varied monsters made a nice gamepaly experience, as well as the variety of skills that the various heroes can perform.

Untold Legends' lengthy single-player campaign and multiplayer options compensate somewhat for its underwhelming sound, forgettable story and mindless hack-and-slash gameplay.

While not necessarily straying from the formula that made its predecessors great, this one seems unmotivated and underachieving, like something a dungeon master with a hangover might scrabble together to pay the overdue rent.
A game that will keep u entertained for weeks with different races spells dwords axes bows etc..... this game is well worth buyin if u in to

rpg and everquests games i think this game should be bought by all hack an slash gamers and the lv up system is good. 10/10 =) ps i enjoyed it i think this game is aimed at teens!

…

Expand

I found the game to be captivating and very enjoyable.

It's not one of the most striking games i have ever played and it certainly gets boring after a short while. There is almost nochange wh

en you level up, and you never get the satisfaction of killing everything on the map. Diablo 2 is better.

…

Expand

Visually above average, but lacks on the RPG aspect, and mainly - the random dungeon creation is a really dated concept. PSP needs a devent a

ction-RPG, can't wait for Kingdom of Paradise.

…

Expand