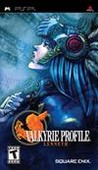 Summary:

Asgard, the realm of the gods, remains locked in an eternal struggle between the benevolent Aesir and the demonic Vanir. With the end of the world approaching, Odin, Lord of Asgard, summons Lenneth Valkyrie to his side. Possessing the ability to hear the thoughts and feelings of men and

Asgard, the realm of the gods, remains locked in an eternal struggle between the benevolent Aesir and the demonic Vanir. With the end of the world approaching, Odin, Lord of Asgard, summons Lenneth Valkyrie to his side. Possessing the ability to hear the thoughts and feelings of men and women in their dying moments, he charges Valkyrie to search Midgard, the world of mortals, to recruit and train the souls of worthy warriors to join the ranks of the Aesir in the Sacred War. Valkyrie Profile: Lenneth brings the classic PlayStation® game console title, originally released in 2000, to the PSP system with completely new CG cut scenes. tri-Ace, the developers behind the acclaimed Star Ocean series and "Radiata Stories", introduce new fans to the spectacular combo attacks, unique side-scrolling environment, and gripping storyline that first captivated players six years ago. To give players a deeper understanding of the plot and to complement the game's dramatic storyline, additional CG cutscenes have been incorporated. Some of these new scenes contain links to the story of "Valkyrie Profile 2: Silmeria." [Square Enix]

…

Collapse

Developer:

TOSE

Genre(s):

Console-style RPG

# of players:

1 Player

Cheats:

On GameFAQs

Rating:

T
On its own merits Valkyrie Profile is easy to recommend, but given the relative lack of high quality RPG's on the PSP, it's a definite must buy.

While not quite up there with the likes of GBA's "Final Fantasy Tactics Advance," Valkyrie Profile: Lenneth is by far the best RPG ever to grace the PSP platform!

A great RPG with an unorthodox design. There are amazing design elements here. The art and sound direction are unmistakably original, amplifying what could be the game's best asset -- an incredibly active and technical battle system. There's a lot to like, but at times the game is bolder than it is balanced or practical.

If you've been waiting for years to get your hands on this Tri-Ace classic, Valkyrie Profile: Lenneth will not dissapoint. [Aug 2006, p.90]

Although the game is marred by a plethora of problems, including horrendous load times when you load the map and menu, it still provides an entertaining experience nonetheless.

I also was frustrated by a sea of poorly designed and explained menus, repetitive dungeon hacks and temperamental controls.
VP is a CLASSIC! Its one of the best tri-ace games ever made. This fantastic sound and characters like lezard are a most have. You have to

VP is a CLASSIC! Its one of the best tri-ace games ever made. This fantastic sound and characters like lezard are a most have. You have to play this game.

…

Expand

VP is truly a classic. Its compelling story and Unique battle system make it a must for any J-RPG fan. Top that with amazing characters and

VP is truly a classic. Its compelling story and Unique battle system make it a must for any J-RPG fan. Top that with amazing characters and an unlockable secret dungeon and you got an unforgettable gaming experience.

…

Expand

Valkyrie is an excellent game. The story is very creative and impressive. The graphics are fair, for PSP anyway and the overall gameplay is

Valkyrie is an excellent game. The story is very creative and impressive. The graphics are fair, for PSP anyway and the overall gameplay is magnificent. You will be blown-away by the features that this game offers. It's a must-buy!

…

Expand

This is a very good game indeed. Beautiful 2D graphics, memorable characters with their dramatic stories, a lot of them! The battle system is

This is a very good game indeed. Beautiful 2D graphics, memorable characters with their dramatic stories, a lot of them! The battle system is amazing and unique. The game is pretty hard at times and it can be merciless if you've missed some item or spell earlier in the game. also it has some annoying platformer-style elements, but overall it's rather addictive. Ah, and I forgot to mention the stunning animation clips and great voice acting.

…

Expand

The game on my stand-point, the story was very emotional, very good.
Half of the time it would bring a tear to my eye (why you ask?).
InThe game on my stand-point, the story was very emotional, very good.
Half of the time it would bring a tear to my eye (why you ask?).
In this game you play as a Valkyrie who is sent down to collect warriors to fight for the gods but before finding the warrior, it shows the that person is like and what his/her life is, upon reaching their deaths, the Valkyrie approaches the person and leaves what I call symbolic and metaphoric (add to the music thats being played upon their deaths).

But the one thing that affect it for me to leave it at a 8 was because of the side-scrolling maps, they're way to annoying but it was a good play.

…

Expand

A fun RPG, probably the best I've played on the PSP to date. It's upside: nice graphics, fun battles, col storyline, interesting

A fun RPG, probably the best I've played on the PSP to date. It's upside: nice graphics, fun battles, col storyline, interesting characters. Downside: side-scrolling graphics may not appeal to all, the combat can be repetitive, and it's a bit "old school."

…

Expand

This is literally the worst game I have ever played on the psp out of 25+. Was everyone paid to give it such a high rating? Your review must

This is literally the worst game I have ever played on the psp out of 25+. Was everyone paid to give it such a high rating? Your review must be at least 150 characters long.Your review must be at least 150 characters long.Your review must be at least 150 characters long.Your review must be at least 150 characters long.Your review must be at least 150 characters long.Your review must be at least 150 characters long.Your review must be at least 150 characters long.Your review must be at least 150 characters long.Your review must be at least 150 characters long.Your review must be at least 150 characters long.Your review must be at least 150 characters long.Your review must be at least 150 characters long.Your review must be at least 150 characters long.Your review must be at least 150 characters long.Your review must be at least 150 characters long.Your review must be at least 150 characters long.Your review must be at least 150 characters long.Your review must be at least 150 characters long.Your review must be at least 150 characters long.Your review must be at least 150 characters long.Your review must be at least 150 characters long.Your review must be at least 150 characters long.Your review must be at least 150 characters long.Your review must be at least 150 characters long.Your review must be at least 150 characters long.Your review must be at least 150 characters long.

…

Expand