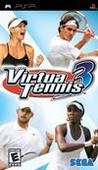 Summary:

With ultra-realistic graphics and precise player control, gamers will hit the court and play as or against today's tennis elite including Federer, Sharapova, Roddick, Nadal, and Williams. A new multiplayer mode allows up to 8 friends to battle it out on 23 courts around the world. As they se

rve up their best in a mix of exhibitions, tournaments and competitions, players will rise through the ranks and battle for the top spot. [Sega]

…

Expand
Developer:

Sumo Digital

Genre(s):

Other Sports Games

# of players:

8 Online

Cheats:

On GameFAQs

Rating:

E
Exceptional tennis game whose combination of exquisite control and alluring content results in one of the most rewarding sporting experiences around.

The new mini-games are a blast though, and we can't overly punish what is still the best tennis experience out there. [Issue#152, p.82]

This is the best tennis game on the PSP, but it's not much improved over last year's title. Only serious tennis fans and those who don't already own "Virtua Tennis: World Tour" should bother with this one.

There's no doubt that it's a strong pickup for casual sports fans or dedicated SEGAphies, but for those of us who played its predecessors, it may be a little too familiar.

When looking at this strictly from a playability sense, this game's easy to learn and fun to master.

A very playable tennis game if you don't already own "World Tour."
Excellant all round tennis game. Lots of sub-games to keep occupied for weeks. Season game is challenging and does not automatically get easi

er when skills are unlocked as CPU players have differing abilities. Does suffer sometimes in double matches of 'slowdown' and gets frustrating when ball takes an age to hit racket. Otherwise fine game that captures the sport perfectly. recommend to all sports games fans.

…

Expand

Very good tennis game, shame it doesn't have Andy Murray in it though.

They didn't scale down the graphics properly, leaving too many glitches. The ball actually gets lost in the haze. Previous version "worl

d tour" is much smoother and better looking.

…

Expand

Don't buy this buggy load of pants. Buy VT:World Tour - it's better and cheaper! I've owned both. Sure, this looks a bit nicer

& you can see what tournaments you have won, but (a) it crashes a lot when using your custom player, temporarily bricking your PSP. This is particularly annoying when winning in the final of a tournament. (b) you can't see the ball being hit as the player name labels stupidly cover most of the top of the screen, even for short names (c) it is far too easy to get to #1. Once you figure out the simple way to play the CPU, it is very hard to lose! (d) the skills practice games are mostly worse (e) the AI is not as good. The 'good' players have an annoying habit of taking drop shots about 90% the time. (f) Some tasks are next to impossible in the training academy because the CPU player will not co-operate! I'm sorry I traded VT:World Tour in - Don't make the same mistake I did!

…

Expand