Publisher:

Sega

Release Date:

Oct 7, 2005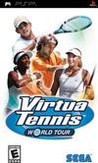 Summary:

Virtua Tennis World Tour features three core gameplay modes: World Tour, in which players travel the globe using a custom-created character to win cash; Exhibition, where players can take control of a pro tennis all-star for one-off matches; and Tournament, which puts players in knockout ses

sions where only the best will see victory. Play up against the best in the world or play as a star and challenge fellow professional players, including Roger Federer, Andy Roddick, Maria Sharapova, Venus Williams, Lindsay Davenport and Tim Henman, among others. Four unique court surfaces to play on. Play around the world on hard court, clay, grass and carpet. Multiplayer Wi-Fi function: Competition with other PSP system owners for up to four players. Three different play modes: World Tour, Exhibition and Tournament. Create your own player: Accessorise your character with the virtual cash you win in tournaments. [Sega]

…

Expand
Developer:

Sumo Digital

Genre(s):

Other Sports Games

# of players:

1-4

Cheats:

On GameFAQs

Rating:

E
Fast, fluid and thoroughly absorbing, Virtua Tennis World Tour is not only as essential a purchase as "Lumines," "WipEout," "Ridge Racers" and Co., it's a reason to buy the PSP itself.

The perfect game for the PSP. The mini-games make it a good option if you've only got three or four minutes, and the World Tour is deep enough that you can spend an hour with it – never feeling limited by the fact that you're playing a handheld game.

Packs everything fans of the series could want in a portable package. It's fast, fun and thoroughly engrossing. Plus, the inclusion of well-designed mini-games pushes World Tour's intrinsic level of addition to new heights.

It's "Pong" on steroids, with lifelike graphics, technically deep controls, and awesome sound effects - I love hearing my player's feed shuffle on the court and that satisfying thwop of a well-hit ball. [Nov 2005, p.154]
I have played the game and it is great. the graphics are good and itts fun to play. right from the start from when you create your own charac

ter up t the part where you are rank 1 (king of players tournament).

…

Expand

I havent yet got this title but after borrowing it off a m8 it was a must have. i agree that the range of players is low but the gameplay can

never get old the same way that every year loads of people go out and buy fifa even though all the have changed is players haircuts and the odd transfer.

…

Expand

Fun game and its tennis infact there is no diffrence between this version and the dreamcast version. i dont understand these people comparing

this game to GTA thats like comparing ball to a box it dont make sense.

…

Expand

Ok the gameplay and graphics are excellent the problem is the controls are faulty and the world tour mode gets boring very fast.