Publisher:

Sega

Release Date:

Oct 7, 2005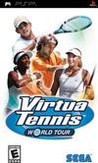 Summary:
Virtua Tennis World Tour features three core gameplay modes: World Tour, in which players travel the globe using a custom-created character to win cash; Exhibition, where players can take control of a pro tennis all-star for one-off matches; and Tournament, which puts players in knockout sessions where only the best will see victory. Play up against the best in the world or play as a star and challenge fellow professional players, including Roger Federer, Andy Roddick, Maria Sharapova, Venus Williams, Lindsay Davenport and Tim Henman, among others. Four unique court surfaces to play on. Play around the world on hard court, clay, grass and carpet. Multiplayer Wi-Fi function: Competition with other PSP system owners for up to four players. Three different play modes: World Tour, Exhibition and Tournament. Create your own player: Accessorise your character with the virtual cash you win in tournaments. [Sega]
| | |
| --- | --- |
| Rating: | E |
| Developer: | Sumo Digital |
| Genre(s): | Sports |
| Number of Players: | 1-4 Players |
| Offline Modes: | Competitive Cooperative Team Oriented |
| Connectivity: | Wi-Fi |
Designer/Producer/Programmer credits provided by
GameFAQs
.
If you contributed to this game and feel you should be credited, please read our
FAQ
.
| | |
| --- | --- |
| | |
| | #12 Most Discussed PSP Game of 2005 |
| | #24 Most Shared PSP Game of 2005 |