Publisher:

THQ

Release Date:

Nov 12, 2007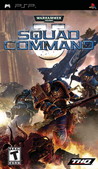 Summary:
Warhammer 40,000: Squad Command features fast, action-packed combat through turn-based strategy and an engaging, authentic single-player storyline. Gamers play as the elite Space Marines of the Ultramarines chapter and strive to combat the encroaching evil of the ruthless and daemonic influenced Chaos Space Marines through 13 cinematically-tied missions. With a robust multiplayer mode featuring 9 unique missions, gamers will team up and go head-to-head with other gamers worldwide as either the Imperium of Man or Chaos Space Marines, ensuring hours of unique replayability. Compelling single player game consisting of 13 unique missions. 9 unique multiplayer maps for Local or Global games, with small, medium and large map variants to cater for games from 2 to 8 players. Fully destructible, real time 3D battlefields mean that no two games will be the same. Pick from two Space Marine chapters or two Chaos Space Marine Legions to play as in Multiplayer games, in battles between Imperium vs. Imperium, Forces of Chaos vs. Forces of Chaos, or Imperium vs. Forces of Chaos.
| | |
| --- | --- |
| Rating: | T |
| Official Site: | http://www.squadcommandgame.com/ |
| Developer: | RedLynx |
| Genre(s): | Strategy, Turn-Based, Sci-Fi, Sci-Fi, Tactics |
| Number of Players: | 1 Player |
| ESRB Descriptors: | Fantasy Violence |
| Online Modes: | Competitive |
| Number of Online Players: | 8 Players Online |
Designer/Producer/Programmer credits provided by
GameFAQs
.
If you contributed to this game and feel you should be credited, please read our
FAQ
.
| | |
| --- | --- |
| 51 | |
| 17 | #17 Most Discussed PSP Game of 2007 |
| 25 | #25 Most Shared PSP Game of 2007 |