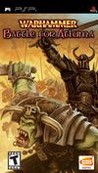 Summary:

Based on the collectible card game set in the Warhammer world, WarCry: The Battle for Atluma delivers an extensive card game experience on the PSP. Enter the old world and battle your way through the armies of the Grand Alliance or the evil Hordes of Darkness. Discover the secrets of Atluma

as you collect more than 450 cards, but be quick - you'll have to use all your wits and strategy to beat your opponent to the ultimate goal, the Atluma Crystal. Wireless Multiplayer: Battle a friend by connecting wirelessly or trade cards with a friend. Live the struggle of battle through life and death decisions: Choosing the right or wrong battle can lead your army to victory or defeat as you wager and win new warriors from your friends. Build your custom army deck: Utilize more than 90 different units through recruitment, conquest and trade. Extensive tutorial system: Even beginners can jump into the action like a vetran with the in-depth tutorial system. [Namco Bandai Games]

…

Expand
Developer:

JV Games Inc.

Genre(s):

Card Battle Games

# of players:

1-2

Cheats:

On GameFAQs

Rating:

T
The production values are pretty abysmal, but this absorbing strategy title has hours of potential playtime packed in – more than worth checking out.

A very bare-bones experience. It adds very little to the established card game by way of visual flair and enhanced gameplay. Having said that, the game does retain the depth of physical card game.

Battle of Atluma gets the WarCry card-game mechanics down cold. Unfortunately, the chill permeates every aspect of the presentation.

The only thing worse than playing Warhammer: Battle for Atluma would be having paid to play it. Numerous issues including presentation, short length, and rather complex gameplay mechanics make it hard to recommend this game.

Battle for Atluma is a good package for any lover of the card game, but it doesn't offer anything special to draw outsiders into the experience.

Little more than a generic game with little to no flavor of its own. Unless you're a diehard Warhammer fan, Battle for Atluma doesn't have much to offer.

Deserves kudos for being such a meticulous translation of the card game. Unfortunately, there is little else to attract anyone other than the hard core fan base.
This game holds to the tabel top perfectly. If you give the card game a chance you'll see how indepth it really is. I can't

recommend this enough.

…

Expand

I love the way this game plays. I have played WarCry the card game, and this game plays just like the card game. The controls are fluid and

the graphics are superb. There are many features include multiplayer battles, card trading, card purchacing, single player battles, and deck creation. If you like Warhammer, I highly recommend this game.

…

Expand

I'm a fan of card games and I don't mind strict translations with with little to no added visual flair, but this game lacks two very

important features to any game system conversion of a card game in my mind: 1) the ability to save in the middle of a match (they are not fast) 2) the ability to save multiple decks (often you'll want a different deck depending on what type of opponent you're facing). I hate to say it, but I can't recommend this game even to lovers of the real card game.

…

Expand

A real sleeping pill. No action at all, not even cutscenes and I like card basedgames.