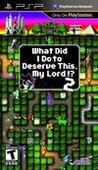 Summary:

The sequel to Holy Invasion of Privacy, Badman! What Did I Do To Deserve This?
Developer:

Acquire

Genre(s):

Role-Playing

Cheats:

On GameFAQs

Rating:

E
It's funny, addicting, and well designed and is a real bargain for PSP owners looking for something off the beaten path.

My Lord 2 includes everything worthwhile from its predecessor and builds on top of that grand foundation; there's simply no need to go back to the first.

What Did I Do to Deserve This, My Lord?! 2 for the PSP is a surprisingly deep and humorous real time strategy title well fitted for Sony's portable. Both a higher than average learning curve and surprising price point are overcome by a slew of game modes plus free version of the first My Lord offering.
One of the best games on the PSP with infinite replay value for score hounds and unlimited possibilities for creative types who love nothing m

ore then to carve out their own dungeons of doom. A new genre unto itself between RTS and dungeon / maze making RPG mock-umentary -devilishly hard and massively underrated- Badman is a style of game where RPG goers can be the evil villain (like Techmo's Deception or My Life as a Darklord) or in this case, his evocation. Most critics are too dumb and impatient to play this one enough. Don't trust anyone that didn't finish it or play the expansions. Dark humor with plenty of inside jokes about JRPGs drive the storyline as you conquer the world. The variations of dungeon creativity have kept me up many a night, as just a few more twists and turns can be the difference between evolving slimes or dragons! Now let us all hope this game keeps going forward so that we can design more then just the dungeons for our JRPG heroes! If you enjoy creating mazes or dabble in creating your own RPGs, this game is perfect for practice. Retro perfection, twisted, hilarious and brilliant. One day people will look back on Badman as a cult classic that helped to define new genres in gaming. Never give up, try try again and the game will reward you as does an epic RPG with mutations and funny bumbling heroes. One of the best games of all time and very few are strategic enough to understand why.

…

Expand