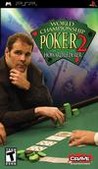 Summary:

WCP 2 features Howard Lederer, Greg Raymer, Clonie Gowen, Amir Vahidi, Paul Darden, Robert Williamson III, Matt Savage, and Annie Duke. World Championship Poker 2 features a much more detailed one player game, where you now have to work your way up the ranks, starting in your mom's basement.

Once you start winning and accumulating money, you can spend your winnings on increasingly better pads, and furnishings. Hit a losing streak, and you may have to hock your stuff to stay in the game. 14 types of poker are featured, including Texas Hold'em, Five Card Draw, Seven Card Stud and Pineapple. [Crave]

…

Expand
Developer:

Crave

Genre(s):

Parlor Games

# of players:

8 Online

Cheats:

On GameFAQs

Rating:

T
The long-time problems that do and will always hold gambling videogames down still exist here, mainly the fact that human emotion and reaction cannot be duplicated and gambling with fake money isn't always satisfying when you can pull a real game together with your friends, but with all elements considered there simply isn't a better videogame simulation of the popular card game to be found.

One of the best poker games of the year on PSP.

The poker engine is solid, the A.I. above average, and all of your favorite poker variations are here for the playing.

It isn't a terrible game, but neither is it a good one. For those wanting to play a game of poker without the hassle of dealing cards or finding friends to play against then this game is an adequate substitute.
I like the graphics. I find the game very difficult to win in large tournaments. I was hoping to see more celebs beside raymer and lederer at

this point in the career mode. outside if that I enjoy it.

…

Expand

I thought I had a bad copy of the game because of the freezing, so I went and bought a second copy. Now I'm just mad that I wasted twice

the money when I could have read this message board. It's sooo much fun... when it works. I love all the different games, but can't stand being unable to finish a 50 man tmnt. Despite the obvious heartbreak I experience every hour, I continue to play it. It's that much fun, and that frustrating. Please someone make this game without the flaws.

…

Expand

It seems to happen to everyone else as well ,so it seems to be true. This is a MAJOR draw back in career mode. I spent 2+ hours getting up th

e board only to have it freeze. The game is pretty good overall but this is a huge defecit which overwhelms the game form being great.

…

Expand

This is by far the best poker video game I've come across, however the freezing that occurs makes the game useless and takes away any de

sire to play. Very frustrating. I hope Crave Entertainment takes this problem and their consumers seriously.

…

Expand