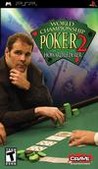 Summary:

WCP 2 features Howard Lederer, Greg Raymer, Clonie Gowen, Amir Vahidi, Paul Darden, Robert Williamson III, Matt Savage, and Annie Duke. World Championship Poker 2 features a much more detailed one player game, where you now have to work your way up the ranks, starting in your mom's basement.

WCP 2 features Howard Lederer, Greg Raymer, Clonie Gowen, Amir Vahidi, Paul Darden, Robert Williamson III, Matt Savage, and Annie Duke. World Championship Poker 2 features a much more detailed one player game, where you now have to work your way up the ranks, starting in your mom's basement. Once you start winning and accumulating money, you can spend your winnings on increasingly better pads, and furnishings. Hit a losing streak, and you may have to hock your stuff to stay in the game. 14 types of poker are featured, including Texas Hold'em, Five Card Draw, Seven Card Stud and Pineapple. [Crave]

…

Expand
Developer:

Crave

Genre(s):

Miscellaneous

,

Parlor

,

Gambling

,

Gambling

# of players:

8 Online

Cheats:

On GameFAQs

Rating:

T
The long-time problems that do and will always hold gambling videogames down still exist here, mainly the fact that human emotion and reaction cannot be duplicated and gambling with fake money isn't always satisfying when you can pull a real game together with your friends, but with all elements considered there simply isn't a better videogame simulation of the popular card game to be found.

It doesn't perfectly replicate the poker experience enough to immerse you in the game, but if you are a poker fan, WCP2 should definitely be a title to consider, with its 14 different variants, online capability, and decent replay value.

World Championship Poker 2's offline play is the best you'll find amid this year's competition, and the online play is still pretty engaging.

The best poker video game available for home consoles. Sure, it'd be nice if the presentation were flashier, and if the game offered more configuration options, but the poker itself is damn near perfect. That's what matters most.

It certainly falls short on some of the presentation points, like its minimalist character creator and restrictive Career mode options, but its AI and fairly cool RPG elements make it stand out from the portable crowd a bit.

Official U.S. Playstation Magazine

The simple infrastructure multiplayer adds some replay value, but overall this port is poorly thought out. [Mar 2006, p.97]

It isn't a terrible game, but neither is it a good one. For those wanting to play a game of poker without the hassle of dealing cards or finding friends to play against then this game is an adequate substitute.
I like the graphics. I find the game very difficult to win in large tournaments. I was hoping to see more celebs beside raymer and lederer at

I like the graphics. I find the game very difficult to win in large tournaments. I was hoping to see more celebs beside raymer and lederer at this point in the career mode. outside if that I enjoy it.

…

Expand

I love and hate this game. Crave did a pretty good job overall, but when you spend an hour to get to the top 20 of a 300 player tourney and

I love and hate this game. Crave did a pretty good job overall, but when you spend an hour to get to the top 20 of a 300 player tourney and the game freezes, words cannot explain. (why does this psp produce so many games that are broken, i.e. "Prince of Persia"-sound,controls "Madden06'" 2nd season game mess-up, and now this. The game does a good job of actually makes you feel like your playing poker with real odds.Hate the jagged edges and spots on the players faces, is that a nose ring or a glitch?Why can't we have a "hoyle card games" title come out for the psp (like PC version)with online voice chat. Wait for the newness to wear off this game, then buy it, used.

…

Expand

I thought I had a bad copy of the game because of the freezing, so I went and bought a second copy. Now I'm just mad that I wasted twice

I thought I had a bad copy of the game because of the freezing, so I went and bought a second copy. Now I'm just mad that I wasted twice the money when I could have read this message board. It's sooo much fun... when it works. I love all the different games, but can't stand being unable to finish a 50 man tmnt. Despite the obvious heartbreak I experience every hour, I continue to play it. It's that much fun, and that frustrating. Please someone make this game without the flaws.

…

Expand

If you're going to buy a poker game - World Series of Poker is much better (don't believe the bad professional rating). The

If you're going to buy a poker game - World Series of Poker is much better (don't believe the bad professional rating). The graphics and gameplay are head and shoulders above World Championship Poker 2. I also get the freeze up - what's the story with that? Pass on this game and go for World Series of Poker.

…

Expand

Just jumping into the mix. At first I thought the freezing was just a random fluke. But, after 5 straight times of having it freeeze at the

Just jumping into the mix. At first I thought the freezing was just a random fluke. But, after 5 straight times of having it freeeze at the 4th or 5th round of blinds of the same 200 person tournament, I knew it had to be a programming flaw. This game is now an expensive paperweight.

…

Expand

I liked the game, then it started locking up on me. You spend the time and play hard just to get to the final table and it freezes. I hoped I

I liked the game, then it started locking up on me. You spend the time and play hard just to get to the final table and it freezes. I hoped I was waiting for someone from another table to show up..... apparently not. At least I am not the only one who has had this problem. It takes all of the desire to play this game away.

…

Expand

This game is worthless. It freezes in tournaments. End of story. I'd rather be playing solitaire or mine sweeper. I'm going to try

This game is worthless. It freezes in tournaments. End of story. I'd rather be playing solitaire or mine sweeper. I'm going to try and contact whoever is responsible and demand my money back.

…

Expand
| | |
| --- | --- |
| | |
| | #20 Most Discussed PSP Game of 2005 |