Publisher:

Crave

Release Date:

Sep 5, 2006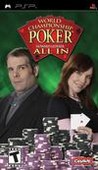 User Score
tbd
No user score yet- Awaiting 3 more ratings
Summary:

All In features some of the most recognizable and successful poker stars in the world, including Howard Lederer, his sister Annie Duke, Greg Raymer, Amir Vahidi, Paul Darden, and Robert Williamson III. Joining the roster for this year's edition are noted international poker superstars Marcel

Luske, Thomas Bihl, and Erin Ness, who parlayed a victory at a Maxim Magazine office tournament into a seat at the 2004 World Series of Poker. Features 18 types of poker, including Texas Hold'em, Five Card Draw, Seven Card Stud Omaha and More. Multi-Table Online Tournaments. Scenario Mode: Players are presented with a series of poker "puzzle" challenges that gradually increase in difficulty. Lucky Charms: Players can improve their luck through this Career Mode skill. Mixed Games: Play two or more variations of poker during a single game, with the game changing every time the dealer button makes it around the table. [Crave Entertainment]

…

Expand
Developer:

Point of View

Genre(s):

Parlor Games

# of players:

8 Online

Cheats:

On GameFAQs

Rating:

T
A well-rounded poker game on the PSP; what sets it apart is it's uniqueness. Sure there are only a few different poker games (five) but it's the journey in this case, not just the destination.

Not content to rest on the laurels of its lengthy name, World Championship Poker: Featuring Howard Lederer – All In distinguishes itself on the strength of its poker/RPG hybrid gameplay, it's sleek, thematic atmosphere, and an AI that understands how to play the game correctly.

Some of the new additions are kind of cool in theory, like the things you can do in your house, but on the whole the game doesn't feel like it's moved the series forward all that much.

All In seems like Crave's attempt to bet the farm on nothing more than a high card. The few improvements the game makes over last year's entry pale in comparison to its shortcomings.
Long loading times at all stages of accessing the UMD, which is particularly a problem when you want to play a quick game. Fun game, esp scen

ario mode. Cheap ($15 new). AI seems adequate. Cannot verify if they fixed the large tournament bug from WCP 2 to WCP All In. No crashes yet.

…

Expand