Publisher:

SCEA

Release Date:

Mar 14, 2005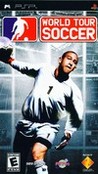 Summary:
Who knows where your next challenge will come from or who that challenger will be? With the power of WiFi compatibility and the User Alert System, World Tour Soccer enables you to challenge complete strangers spontaneously. And with so many international and club teams to choose from and several cup competitions to enter, every day is a matchday! Choose from over 150 teams and take them to glory at domestic or international level. Unlock new club sides, special teams, extra stadia and cup competitions by achieving success in various game modes. Advanced User Alert System pinpoints other PSP players within range for instant ad hoc challenges. [SCEE]
| | |
| --- | --- |
| Rating: | E |
| Developer: | SCEE |
| Genre(s): | Sports, Traditional, Team, Soccer, Sim, Sim |
| Number of Players: | 1-2 Players |
| Offline Modes: | Team Oriented |
| Connectivity: | Wi-Fi |
Designer/Producer/Programmer credits provided by
GameFAQs
.
If you contributed to this game and feel you should be credited, please read our
FAQ
.
| | |
| --- | --- |
| 36 | |
| 67 | #67 Most Discussed PSP Game of 2005 |