Publisher:

THQ

Release Date:

Mar 22, 2006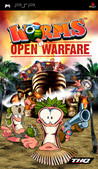 Summary:

Retaining the same award-winning gameplay, unique sense of humor and clever mix of action and strategy that has epitomized the brand for almost a decade, Worms makes its debut on the Sony PSP and the Nintendo DS. Classic Gameplay – Return of the classic and much acclaimed 2D turn-based

Retaining the same award-winning gameplay, unique sense of humor and clever mix of action and strategy that has epitomized the brand for almost a decade, Worms makes its debut on the Sony PSP and the Nintendo DS. Classic Gameplay – Return of the classic and much acclaimed 2D turn-based gameplay. Over The Weapons – Including bazooka-toting worms, exploding sheep, homing missiles, grenades and banana bouncing bombs of death. Unparalleled Multiplayer Experience – Multiplayer mode allowing up to four players using one unit (hot seat). Multiplayer mode via WIFI technology allowing connection of 4 units. Conflict and Destruction – Take on all-comers over a nearly infinite number of randomly-generated landscapes, or face the fiendishly intelligent artificial intelligence in Deathmatch Challenge mode. [THQ]

…

Expand

Developer:

Team 17

Genre(s):

Fantasy

# of players:

1-4

Cheats:

On GameFAQs

Rating:

E10+
A perfect fit for the PSP. It's puzzle based so you don't have to worry about control issues. The screen is super wide so you can see more of the map than normal and the game has no real continuity involved so you can pick it up and play a game without having to remember where you were at.

It's a perfect handheld game and something that's bound to always keep a smile on your face.

I still say that you can save some money and probably find a free downloadable version for your computer that is just as good, or maybe fork out a couple of bucks for a classic title.

Going at it with other players in Open Warfare is definitely enjoyable, but going solo against the computer is rather mundane.

Classic Worms gaming on the go, let down by erratic worms and limited multiplayer options.

I have a hard time finding justification for the reduction in weapons and the tragic loss of the true campaign mode. While it is still a fun game to play with some friends, it had the potential to be more so, and it also had the potential to be vastly more entertaining for a single player.

There's no new weapons, no online play, and I don't even think there's any new sound sets for your team of worms. If you're new to the series or just want some strategic warfare on the go, Open Warfare is fantastic. Worms veterans beware, however.
I got this game for my birthday, and im loving every bit of it. I have loved Worms since the first one, and Worms Open Warfare is a trip back

I got this game for my birthday, and im loving every bit of it. I have loved Worms since the first one, and Worms Open Warfare is a trip back to its roots. I prefer the 2D worms by far, the 3D versions are still good but its just not the same, using the bazooka in Worms 3D is virtually impossible.

…

Expand

this is an amazing game..it is addictive you can play it in bursts or just play it for hours on end.....it never gets boring!!

It is a FANTASTIC game. I like the perfect screen fit. Very Cool game!

Ok game. Not bad but not amazing. I liked the 3D backrounds and the 2D characters but in every game against the computers, when it's

Ok game. Not bad but not amazing. I liked the 3D backrounds and the 2D characters but in every game against the computers, when it's there turn you have to wait atleast 1 minute for them to actually move. Also in the previous worm games you could pick the worm you wanted to use. In this one you can't. Other then that this game is pretty good, and worth a buy.

…

Expand

Worst worms game in the series but Worms: Open Warfare 2 is the best game in the series. I recomend that one over this one any day. worms: OW

Worst worms game in the series but Worms: Open Warfare 2 is the best game in the series. I recomend that one over this one any day. worms: OW 1 has no online, looks like crap, not enough variety and to few weapons. Worms: OW 2 has all this plus more including downloadable content to expand your worms experiance.

…

Collapse