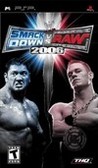 Summary:

SmackDown vs. RAW 2006 delivers the deepest and most realistic wrestling experience ever. New high-resolution textures and motion-captured technology bring WWE programming to life like never before. The improved fighting system brings a new level of realism and tactical thinking to matches.

Lace up your boots for the definitive wrestling experience. Features over 50 playable WWE Superstars. Robust Create-A-Superstar and Create-A-Championship modes. Full Season Mode and dozens of exhibitions. PS2 to PSP Connectivity. Transfer season mode and created characters between the two game systems. Exclusive PSP Features: Party Mode -- WWE mini-games with wireless multiplayer support. Exclusive PSP unlockables: up to 4 player multiplayer wireless gaming. [THQ]

…

Expand
Developer:

Yuke's

Genre(s):

Wrestling

# of players:

1-4

Cheats:

On GameFAQs

Rating:

T
You won't even believe how nearly identical the game is to it's PS2 counterpart. If ever there was the "perfect port", this is very close to what you'll get.

The new minigames are a bit rubbish, but there's basically no reason for PSP-owning WWE fans not to get this. Finally, PSP gets itself a decent fighting game. About time too. [PSM2]

The gameplay holds up tremendously well on the PSP platform, as does the presentation. But the lack of compelling, differing content makes it a tough sell to those who previously invested $50 in this year's game.

The character models are close to the same level of detail as the PS2 version, but unfortunately, the PSP version suffers from a shakier framerate than PS2's version.
Hands down this is the best game out for PsP right now. Yes there are some horrid load times, but if you bought a PsP you were aware of this

issue to begin with. The story mode is great, way better than anything I expected. And all the options and depth are here. But the reason this game stands above all else is the fluidity of the movments. Its not just a button masher like earlier incarnations. Anyone who loves wrestling MUST pick up a copy.

…

Expand

Pretty good... first game I got on my PSP. It rocked, story mode could be a lil longer and I do admit, the load-times were awful. But it was

still the best game ive played for psp.

…

Expand

Xavier R rated this a ten because he saw it online. He obviously has not played the game. Although somehow addictive the game will destroy an

y schedule you had with 20mins to have a 5 min match due to loading times to move to any new screen. Huge parts of the PS2 version were removed to make room for a bad card game and further Eugine-bashing games that are not fun. At all. Period. I bought it and now don't play on it at all. Didnt buy the 2007 version because this one was so bad.

…

Expand

If you love long load times, you'll love this one! It brings back memories of Crash Bandicoot Wrath of Cortex on the PS2 -- you can meas

ure the load times in minutes.

…

Expand