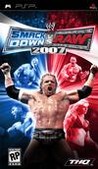 Summary:
A brand new Analog Control System makes fighting more realistic than ever with intuitive movement and new elements of control. An enhanced Season Mode provides multiple branching storylines and unprecedented levels of player choice. In and out of the ring, dozens of user-controlled environmental hotspots let players take advantage of anything at their disposal to inflict damage on opponents in new and unique ways. Additionally, new high impact combination moves let players take the power of WWE Superstars into their own hands. Experience the intensity of WWE fans in a brand new, fully loaded interactive fighting area. Players can take advantage of multiple weapons, environmental damage and grabbing signs and weapons from the crowd. WWE SmackDown vs. RAW 2007 offers multiple enhancements, including incredible high definition graphics, updated rosters for both RAW and SmackDown, an expanded General Manager Mode, online multiplayer game play with voice chat support and more. [THQ]
| | |
| --- | --- |
| Rating: | T |
| Official Site: | http://svr2007.com/ |
| Developer: | Yuke's |
| Genre(s): | Wrestling |
| Number of Players: | 1-4 Players |
| ESRB Descriptors: | Blood, Language, Suggestive Themes, Violence |
| License: | TV |
| Offline Modes: | Competitive, Team Oriented |
| Connectivity: | Wi-Fi |
| Special Controllers: | Microphone |
Designer/Producer/Programmer credits provided by
GameFAQs
.
If you contributed to this game and feel you should be credited, please read our
FAQ
.