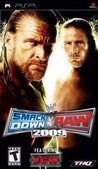 Summary:

WWE SmackDown vs. Raw 2009 upholds the franchise's commitment to delivering the definitive videogame simulation of live WWE programming. The Xbox 360, PLAYSTATION 3 system, PlayStation 2 system and PSP system versions of the game unleash a brand new tag team experience, allowing players to b

build momentum and attributes, eliminate opponents with high impact double teams and finishers, as well as get the "hot tag" for the win. The franchise's renowned creation system offers a brand new Create-A-Finisher option, while a new Road to WrestleMania Mode paves the way to WWE's biggest event of the year and lets players experience co-op storylines for the first time. WWE SmackDown vs. Raw 2009 also extends the virtual WWE gameplay experience with robust online capabilities, including the highly anticipated debut of downloadable content. [THQ]

…

Expand
Developer:

Yuke's

Genre(s):

Wrestling

# of players:

1-4

Cheats:

On GameFAQs

Rating:

T
With over 70 match types, 50 wrestlers, and multiple storylines to play in Road to Wrestlemania, SvR 2009 is one of the hottest WWE titles in recent history.

Perfect structure for a handheld SmackDown, but get the big version if possible. [Dec 2008, p.57]

If this is your type of game, then have a great time, everybody else should probably get their kicks elsewhere.

The straight truth is that SmackDown vs. Raw 2009 on the PSP is a stripped down version of what's on the home consoles, and it shows. It's not bad, but it's nowhere near as solid as or as entertaining as its brethren.
Exceptional as far as hand held wrestling games go. The controls are sluggish at times, but it doesn't effect the gameplay all that much.

The table match is by far the worst thing about the game, as it takes forever to figure out how to win the match. Overall though, it's worth the money.

…

Expand