Publisher:

Playlogic

Release Date:

May 19, 2010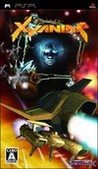 User Score
tbd
No user score yet- Be the first to review!
Summary:

(Currently available in the UK/EU only) Xyanide Resurrection is a Shoot 'em up that combines the fun of the old classic shooters with innovative technology and the latest hardware. Once again you take over the role of the executioner Drake. Your last job of transporting the evil Witch Aguir

ira to her execution place did not work out as intended, and Aguira – the destroyer of planets and civilizations managed to escape her sentence. Now you are in a strange world where physical laws don't necessarily apply – you are in a world Aguira creates using the powerfull Xyanide and her mind. So get in your craft, adjust it's powers to your needs, and jettison off in a world created by your worst enemy. Everything here will be hostile towards you, and you will need the lighting fast reflexes of a pilot to avoid the waves of enemies coming at you. Use your best aiming to shoot down as many enemies as possible, and collect the Xyanide they drop – this is your way to back reality. See how more and more of her world will collapse with the destruction of every boss she will send toward you, and finally – when you are ready – fight her in the battle of your life. 3 different SP modes: Story mode, score attack and instant action. 15 challenging levels spanning across 4 worlds. Story mode with a branching level structure. Over 20 enemy types and over 15 bosses, with adaptive behavior and individual fighting tactics. Earn credits to upgrade your fighter with a wide range of weapons and ship improvements. Various special weapons and power-ups, from devastating rockets to even a black hole! Competitive Multiplayer modes. Unique combination of game mechanics for the seamless transition of an old school genre into the new era. [Playlogic]

…

Expand
Developer:

Playlogic

Genre(s):

Other Shooters

# of players:

1-2

Cheats:

On GameFAQs
Once it gets here, however, you should consider it, not just because of its glossy production values but because of its "good ol' time" of shooting action.

Xyanide Resurrection is not a good game to play by any stretch of the imagination and, unlike other games that I would gladly go back to time and again, this one was banished from my PSP the moment I had done my duty and reviewed it.