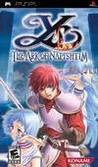 Summary:

Washed ashore on an uncharted island, Adol Christin begins a new journey in Ys: The Ark of Napishtim. Lush environments, beautifully rendered characters and animated 3D backdrops combine to create the setting for Adol's newest adventure. Now on the PSP, our red-headed hero must fight deadly

monsters and menacing bosses with a variety of sword combinations, special attacks and magical spells to uncover the secrets that lie in Canaan's mysterious whirlpools. Power-up three magical swords to gain special abilities and attacks. Combines real-time, fast-paced action and strategic boss battles. Unlock and play fun new mini-games with characters from the island. Play soundtrack & view character profiles in brand new modes. [Konami]

…

Expand

Developer:

Konami Software Shanghai

Genre(s):

Action RPG

# of players:

1 Player

Cheats:

On GameFAQs

Rating:

E10+
It is very addictive and challenging, and offers two additional difficulty levels if the default is not challenging enough.

Some will get bored with the RPG combat elements because of their simplicity. Some will get frustrated by the balance issues. Others will be disappointed at the length.

This is a no brainer for gamers over 25 who remember a better time, as well as the others who may not get what us geezers have been talking about all this time when we say, "Back in my day, my RPG titles were full of substance with wonderful hand drawn art."

This PSP port of Ys: The Ark of Napishtim keeps pace with the hack-and-slash action, but long loading times and other issues mar the overall package.

Though the controls, plot and soundtrack remain unharmed, the frequent and long load times, coupled with the incredibly odd presence of slowdown, cripple the title to the point of not being entertaining at all.

A tired port that received no real updates before being brought to the PSP. Pass.

Quite simply, Ys isn't good enough to make it worth the pain in the butt of the constant loading. It's designed to play fast and easy, but on the PSP, it's a staccato exercise in waiting before you're allowed to do a few very simple things.