Publisher:

Konami

Release Date:

Oct 26, 2010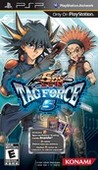 Summary:
Tagforce 5 is one of the most expansive Yu-Gi-Oh! games to date with over 4,500 cards and more than 300 hours of gameplay.
Designer/Producer/Programmer credits provided by
GameFAQs
.
If you contributed to this game and feel you should be credited, please read our
FAQ
.