Publisher:

Konami

Release Date:

Nov 14, 2006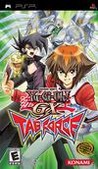 Summary:
Welcome back to the Duel Academy. This school year is highlighted by an event like no other, something brand new to world of Yu-Gi-Oh! The Academy has decided to hold a tournament with one catch - you now have a tag team partner to help you duel. Practice dueling with your friends, find the best partner, and the winner of the tournament will be allowed the use of Duel Academy Island for a day. The first Yu-Gi-Oh! game for the PSP system. Compete in teams of two for the first time, switching characters and decks mid-duel. More cards than any previous Yu-Gi-Oh! video game allow for new deck and duel strategies. Updated duel field with 3D animations for each card. Create custom duel puzzles for endless strategic fun on the go. Multiplayer duels for up to four players via local wireless connection. [Konami]
| | |
| --- | --- |
| Rating: | E |
| Developer: | Konami |
| Genre(s): | Strategy |
| Number of Players: | 1-2 Players |
| ESRB Descriptors: | Mild Fantasy Violence |
| Connectivity: | Wi-Fi |
| Number of Online Players: | 2 Players Online |
Designer/Producer/Programmer credits provided by
GameFAQs
.
If you contributed to this game and feel you should be credited, please read our
FAQ
.
| | |
| --- | --- |
| | |
| | #64 Most Discussed PSP Game of 2006 |
| | #13 Most Shared PSP Game of 2006 |