Publisher:

Konami

Release Date:

Nov 14, 2006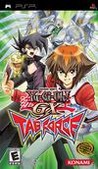 Summary:

Welcome back to the Duel Academy. This school year is highlighted by an event like no other, something brand new to world of Yu-Gi-Oh! The Academy has decided to hold a tournament with one catch - you now have a tag team partner to help you duel. Practice dueling with your friends, find the

best partner, and the winner of the tournament will be allowed the use of Duel Academy Island for a day. The first Yu-Gi-Oh! game for the PSP system. Compete in teams of two for the first time, switching characters and decks mid-duel. More cards than any previous Yu-Gi-Oh! video game allow for new deck and duel strategies. Updated duel field with 3D animations for each card. Create custom duel puzzles for endless strategic fun on the go. Multiplayer duels for up to four players via local wireless connection. [Konami]

…

Expand
Developer:

Konami

Genre(s):

Card Battle Games

# of players:

2 Online

Cheats:

On GameFAQs

Rating:

E
The addition of character control and world exploration are a natural transition for the series. The picture is crystal clear, simplifying the act of card placement.

Yu-Gi-Oh! fans are getting the most complete game they've had in the series while the rest will all still look at it and wonder what the hell the fuss is about. Definitely one for fans only. [Mar 2007, p.80]

Sporting an immense amount of notoriously addictive card wars, Yu-Gi-Oh! GX Tag Force is a no-brainer for fans and a decent introduction for the curious. You could easily sink weeks into the game and still come nowhere near unlocking all of the goodies that are available.

This was doomed from the beginning. I played it with an open mind though and found some enjoyment out of collecting cards and managing my decks. Once the battles started all that enjoyment went away I went back to disliking card games.
This is more than just a card game. With all the thousands of cards avabile you can actually for the first time customize your deck to any wa

y you like. Instead of spending hundreds dollars to buy all the cards you to test out what is the most effective deck at your disposal, this game is a necessity for causual yugioh card players who enjoyes competition because this is a great practice for the tournaments you will enter.

…

Expand

The best Yu-Gi-oh! game to date.For so long,fans of the series and games have been waiting for a game like this.A go-anywhere,talk to anyone

type of gameplay and the ability to go online and update ban lists and download new cards make this one a must-buy for all fans. The biggest collection of old and new cards of any game to date,plus the new addition of tag dueling make this one of the very few "Must Have" games for the PSP if you're a duelist.

…

Expand

My expectations were too high; althought "Tag Force" has great card design and flawless gameplay mechanism, there really wasn't much to do.