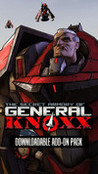 Summary:

(Downloadable Content) Borderlands goes to ELEVEN! You may have seen some games raise their level cap by 5, or maybe even 10, but with The Crimson Lance Assassination Squads wreaking havoc and Crawmerax the Invincible being all invulnerable and stuff we knew you'd need more than just 10. An

d that's why Borderlands goes to ELEVEN! The Secret Armory of General Knoxx is an add-on pack for Borderlands that adds new guns, new Class Mods, new vehicles, new missions, new enemy types, and increases the level cap to 61. [Xbox.com]

…

Expand
Developer:

Gearbox Software

Genre(s):

First-Person Shooters

Cheats:

On GameFAQs
The overall attention in the Secret Armory is impressive, and the quirks that made the main game so memorable are definitely present here.

The best DLC available for Borderlands - An absolute must-buy for fans. [May 2010, p.83]

Compared to the other two DLC offerings for Borderlands, 'The Secret Armory of General Knoxx' is the one I would recommend for anyone who haven't jumped into any of the new content yet. Not only does 'General Knoxx' expand on the ending of the original game, but it offers up a number of new tweaks that work in everyone's favour.

A really huge expansion to Borderlands that feels a little bit like a missed opportunity. But all the tedious transportation and rather dull enemies can't hide the fact that there really is a lot to do here, and that the new vehicles are good fun. In the end, General Knoxx is recommended for all of you who have missed the adventures on Pandora.
I just finished the Armory on Playthrough 1 with a lvl. 50 character. There were several points at which I either died or almost died. Knoxx

himself is one of the most thrilling and satisfying boss fights I've played in a while. I fear the 2nd Playthrough, only because I'm going to run out of money trying to conquer this massive, well-made add-on.

…

Expand

Amazing. Best value for money gaming I ever paid for. Gearbox improved the game in everyway that it needed improving, and then some. There

Tons of fresh content, new missions, maps, great humor, weapons and the raised level cap is a giant plus. I had to subtract two points due to

the number of glitches (I've fallen through the world 3 times now), lack of fast transit system (just like in Zombie Island...it's really annoying to turn in a mission only to get a new one that requires you to drive/walk 10 minutes back to where you *just* were) and the ease of death while driving around. All things considered though this feels like a massive apology for the underwhelming Underdome DLC and is easily worth your $10.

…

Expand

The inability to fast travel through the zones is annoying, but the levels are well constucted and the story was kind of fun and daft in the B

orderlands theme, the ending level is geared more to a multiplayer than a single player experience

…

Expand