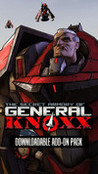 Summary:

(Downloadable Content) Borderlands goes to ELEVEN! You may have seen some games raise their level cap by 5, or maybe even 10, but with The Crimson Lance Assassination Squads wreaking havoc and Crawmerax the Invincible being all invulnerable and stuff we knew you'd need more than just 10.

And that's why Borderlands goes to ELEVEN! The Secret Armory of General Knoxx is an add-on pack for Borderlands that adds new guns, new Class Mods, new vehicles, new missions, new enemy types, and increases the level cap to 61. [Xbox.com]

…

Expand
Developer:

Gearbox Software

Genre(s):

First-Person Shooters

Cheats:

On GameFAQs
The overall attention in the Secret Armory is impressive, and the quirks that made the main game so memorable are definitely present here.

General Knoxx is exactly the kind of DLC that the fans of Borderlands were hoping for: a brand new set of missions with new enemies, locations and loots. The high difficulty setting, especially on the second run, makes this DLC perfect for those who reached the previous level cap.

This lengthy add-on is filled with so much humor, action, and looting satisfaction that it could very well be the highlight of all your Pandoran adventures.

All in all, The Secret Armory of General Knoxx is a vast improvement over its two older DLC siblings.

In this third pack of downloadable content, Gearbox more than makes up for the missteps of Mad Moxxi's Underdome Riot, emptying out Pandora's pockets onto the Vault Hunters in a big way.

With The Secret Armory of General Knoxx, Gearbox injects new life into one of the most addictive and brilliant digital worlds of 2009. New stories and missions, different vehicles, large maps and crazy characters can give Borderlands lovers a fair amount of playtime. Must buy for mercenaries, Crypt hunters and... claptraps!

It is funny, but the fact that it is so big makes large portions of the game seem like a boring chore.
I just finished the Armory on Playthrough 1 with a lvl. 50 character. There were several points at which I either died or almost died. Knoxx

himself is one of the most thrilling and satisfying boss fights I've played in a while. I fear the 2nd Playthrough, only because I'm going to run out of money trying to conquer this massive, well-made add-on.

…

Expand

Amazing. Best value for money gaming I ever paid for. Gearbox improved the game in everyway that it needed improving, and then some. There

Easily the best DLC for borderlands to date, there's tons of missions, a higher level cap, new enemies, and plenty to explore. It would

receive a perfect 10 from me if it weren't for the fact that there's only one transit pole in the entire area and you have to do A LOT of backtracking at times.

…

Expand

The Secret Armory of General Knoxx is an almost perfect DLC, it adds tons of new weapons, quests, and other features, and it extends the level

cap by 11, and adds a lot more hours gameplay, my only complaint and the only thing keeping it from a perfect 10, is that it has only one transit pole, which means you have to do a lot of backtracking through this massive DLC, but other than that this is a must own for Borderlands fans.

…

Expand

This is easily the best Borderlands DLC. It adds a ton of new content in the forms of quests, a new story, new enemies, new vehicles and of

course new weapons. Everything still has the same wit and charm as the base game. The level cap has been raised, making it worthwhile for anyone already at max level. The only minuses are that there are numerous glitches (my favorite being the time my character drove off without the car), and the severe amount of time wasted going to quests or backtracking. Still, this expansion is the best and completely worth the asking price.

…

Expand

Tons of fresh content, new missions, maps, great humor, weapons and the raised level cap is a giant plus. I had to subtract two points due to

the number of glitches (I've fallen through the world 3 times now), lack of fast transit system (just like in Zombie Island...it's really annoying to turn in a mission only to get a new one that requires you to drive/walk 10 minutes back to where you *just* were) and the ease of death while driving around. All things considered though this feels like a massive apology for the underwhelming Underdome DLC and is easily worth your $10.

…

Expand

The inability to fast travel through the zones is annoying, but the levels are well constucted and the story was kind of fun and daft in the

Borderlands theme, the ending level is geared more to a multiplayer than a single player experience

…

Expand