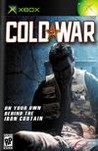 Summary:

Cold War follows a freelance journalist who finds himself in the midst of an international conspiracy that aims to control the U.S.S.R. Twelve hours after arrival in Moscow for a routine story, he has been stripped of all possessions, beaten unconscious, and thrown into the KGB's political p

rison. Now you must match wits and strength against the powerful Russian enemy using only recovered weapons and improvised gadgets to eliminate opponents. Whether you choose to evade or overcome elite Soviet forces, you must defeat the conspiracy before you're sent to a Siberian prison camp or killed.

…

Collapse
Developer:

Mindware Studios

Genre(s):

First-Person Shooters

# of players:

1 Player

Cheats:

On GameFAQs

Rating:

T
If we've learned anything with time, it's that it is much better to be pleasantly surprised by a budget title than to be underwhelmed by a full-price title, and Cold War is a pleasant surprise indeed.

It's fair to say there's spectacularly little that's actually new in the game, but for a different slant on the snooping genre and some well-executed shadow-hopping, you can't go far wrong. [Official UK Xbox Magazine]

There are a lot of better stealth-action games out there, but die-hard stealth-action fans should give Cold War a try.

The graphics are dull and dingy and the audio isn't anything to write about. I suppose if you are a huge fan of stealth games, it might be acceptable but give it a rent first.
I really enjoy this game.

An enjoyable take on the stealth action genre. Obviously not at the same level as Splinter Cell but a valuable addition none the less.