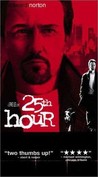 Starring:

Barry Pepper, Edward Norton, Philip Seymour Hoffman

Summary:

The story of the last twenty-four hours Monty Brogan (Norton) gets to spend with his two best friends and his girlfriend before he goes to prison for seven years for pushing heroin.
Director:

Spike Lee

Genre(s):

Drama, Crime

Rating:

R

Runtime:

135 min
25th Hour struck me as one of the best movies of 2002, but it's also a film that will strike some of its audience as ethically dubious or threatening.

Lee has created that rarity in filmmaking: a movie we need, right now.

While Edward Norton convincingly portrays both the good and bad side of his conflicted man, a great deal of the insight into his character comes from the strong supporting cast.

Just about the only good thing you can say about Spike Lee's pointless, didactic The 25th Hour is that it's filled with strong performances, albeit of stock characters.
This movie got me from the start. The intensity of the human drama is very high, like in a Bergman movie.

In the 25th hour, Mr. Lee exercises his prodigious visual talents with unusual restraint, and keeps some of his more confrontational urges in

check. Because the movie is so measured, so melodic, its bursts of wild invention, which might otherwise be irritating, are electrifying. The ending, narrated by Mr. Cox, is as bittersweet and sincere an evocation of the American dream as I have seen on film in quite some time, acknowledging both the futility of the collective national fantasy and its consoling, resilient power. Almost as touching is a moment when Monty, staring into a men's room mirror, launches into a profane tirade against his fellow New Yorkers (and everyone else). His rage is impressively ecumenical, encompassing blacks, brutal police officers, gays, Osama bin Laden, the rich, the poor and every other ethnic or social type you can think of: all of them put down with ruthless, scabrous precision. The rant recalls a famous sequence in ''Do the Right Thing'' and also Eminem's more recent invocation, in ''White America,'' of ''so much anger aimed/in no particular direction just sprays and sprays.'' But like Eminem's rhymes, Monty's outburst, and the montage that accompanies it, contain tenderness as well as hate. Mr. Lee, an irreplaceable New York filmmaker, understands better than most that the true New Yorker's deep, exasperated and unquenchable love for his city is sometimes best expressed in the language of rage.

…

Collapse

This certainly isn't a movie that I would want to watch together with friends. Instead of trying to grab your attention with visual-heavy scen

es, this movie mainly consists of conversations. It's about a realistic scenario and how the people affected by it are dealing with it. And I really like the movie for that. It's different from what I usually watch.
The conversations are also very realistic. There are some scenes that were kind of unnecessary but still blew me away by how these characters talked to each other. A lot of times I thought to my self: "Yea, I could see my self taking part of that conversation." Although the drug mobster is kind of overblown.
I can see why people find this movie boring. It's not for everyone. If you're the type of guy that can sit down for 2 hours and listen to people talk to each other about what they think will happen to them and what they're afraid of instead of them taking part in action scenes, then give this movie a shot. I certainly really enjoyed it.

…

Expand