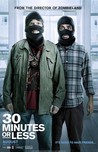 Starring:

Danny McBride

,

Jesse Eisenberg

,

Nick Swardson

Summary:

In the action-comedy 30 Minutes or Less, Nick is a small town pizza delivery guy whose mundane life collides with the big plans of two wanna-be criminal masterminds. The volatile duo kidnaps Nick and forces him to rob a bank. With mere hours to pull off the impossible task, Nick enlists the

In the action-comedy 30 Minutes or Less, Nick is a small town pizza delivery guy whose mundane life collides with the big plans of two wanna-be criminal masterminds. The volatile duo kidnaps Nick and forces him to rob a bank. With mere hours to pull off the impossible task, Nick enlists the help of his ex-best friend, Chet. As the clock ticks, the two must deal with the police, hired assassins, flamethrowers, and their own tumultuous relationship.(Sony Pictures)


…

Expand
Director:

Ruben Fleischer

Genre(s):

Adventure

,

Comedy

Rating:

R

Runtime:

83 min
Please enter your birth date to continue:
You are not allowed to view this material at this time.
There's nothing nice about 30 Minutes or Less. It's got no redeeming social value. It just ticks away, exploding all notions of where you think it's going to go. It blew me sideways.

Gut-bustingly funny -- perhaps this waning summer season's ultimate guilty pleasure.

The actors never stray too far from their comfort zones, resulting in a sporadically funny but mostly bland crime comedy that only occasionally feels fresher or more memorable than that cold pizza you scarfed for breakfast Monday morning.

"Less" has trouble framing simple action, yielding clumsy car chases that put the burden of generating excitement on the music and editing. As a result, pic looks cheap and feels clipped.

30 Minutes or Less could have been a guilty pleasure, but the crusty caper is half baked.

An egregiously miscast Eisenberg stars as a young man toiling as a pizza boy, even though he displays only slightly less intelligence and savvy than the world-beater Eisenberg played in "The Social Network."

Akin to watching a ring-tested champion punch far below his weight. What a comedown.
I think it is an awesome movie. Not only is it really funny but also original and everybody are perfect for there roll especially Micheal

I think it is an awesome movie. Not only is it really funny but also original and everybody are perfect for there roll especially Micheal Pena who plays Chango. They all really make you believe that this could be true.

…

Expand

This movie was hilarious. You see such negative views on it simply because of its crude humor. Mainstream media isn't ready to embrace McBride

This movie was hilarious. You see such negative views on it simply because of its crude humor. Mainstream media isn't ready to embrace McBride style movies, and as a result, score them low. 30 Minutes or Less is a well written and action packed comedy that leave you wanting more. I can't recommend seeing it enough!

…

Expand

A respectable comedy, not the best I've seen but one of your better options, it's mostly funny because the characters are really just goofy,

A respectable comedy, not the best I've seen but one of your better options, it's mostly funny because the characters are really just goofy, it does take a while to get into and has some pacing issues, but once the bomb gets strapped to his chest the laughs start, although I feel the excessive use of the F-bomb was often unnecessary and never made anything funnier but instead made the dialog sound like it was coming from bratty 12 year olds as opposed to adults, but still I got laughs from it, so in the end it's a decent comedy with flaws, but it is worth at least a rental.

…

Expand

Bumbling buffoons Danny McBride and Nick Swardson strap a bomb to pizza delivery loser Jesse Eisenberg and force him to rob a bank. Although

Bumbling buffoons Danny McBride and Nick Swardson strap a bomb to pizza delivery loser Jesse Eisenberg and force him to rob a bank. Although there's plenty of energy, the madcap misadventures aren't especially surprising or extreme. The cast (including Aziz Ansari) manages a few funny moments, but it's not enough to make this worth even 30 minutes. NOTE: Stay thru the credits for a silly commercial.

…

Expand

Though the setup of the film is pretty original, it would have benefited for more wittier lines, especially from Eisenberg. Ansari's

Though the setup of the film is pretty original, it would have benefited for more wittier lines, especially from Eisenberg. Ansari's performance can be pretty aggravating at times, but McBride delivers amusing dialogue to keep the film going.

…

Expand

I was really disapointed by this movie and all the good and funny stuff was in the Red-Band trailer. Don't get me wrong, Jesse Eisenberg's,

I was really disapointed by this movie and all the good and funny stuff was in the Red-Band trailer. Don't get me wrong, Jesse Eisenberg's, Aziz Ansari's, and Michael Pena's performance were great with Michael Pena's being the most funniest and Jesse with the overall best performance. Aziz Ansari's was good too by the way. Anyways, I was expecting a lot from Ruben Fleischer because he'd already worked with Jesse Eisenberg on Zombieland (which is one of my favorite movies) but this is very disapointing. It's fairly watchable and it's a solid rental.

…

Expand

Obviously 30 Minutes or Less isn't an exact representation of the true-life tragedy. What 30 Minutes or Less is is an R-rated comedy, and the

Obviously 30 Minutes or Less isn't an exact representation of the true-life tragedy. What 30 Minutes or Less is is an R-rated comedy, and the bomb, the bank robbery, the car chases, and the shootings are all played for laughs. Too bad those expected laughs just don't come very often, if at all, in 30 Minutes or Less.

…

Expand