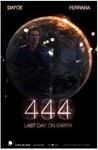 Starring:

Natasha Lyonne

,

Paul Hipp

,

Shanyn Leigh

,

Willem Dafoe

Summary:

In a large apartment high above the city lives our couple. They're in love. She's a painter, he's a successful actor. Just a normal afternoon - except that this isn't a normal afternoon, for them or anyone else. Because tomorrow, at 4:44 am, give or take a few seconds, the world will come to

In a large apartment high above the city lives our couple. They're in love. She's a painter, he's a successful actor. Just a normal afternoon - except that this isn't a normal afternoon, for them or anyone else. Because tomorrow, at 4:44 am, give or take a few seconds, the world will come to an end far more rapidly than even the worst doomsayer could have imagined. The meltdown will come, not without warnings, but with no means of escape. There will be no survivors. As always, there are those who, as their cigarette is being lit and the blindfold tightened, will still hope against hope for some kind of reprieve. For a miracle. Not our two lovers. They - like the majority of the Earth's population - have accepted their fate; the world is going to end. (IFC Films)

…

Expand
Director:

Abel Ferrara

Genre(s):

Sci-Fi

,

Drama

,

Fantasy

Rating:

Not Rated

Runtime:

85 min
Please enter your birth date to continue:
You are not allowed to view this material at this time.
If the end of the world was just hours away, would New Yorkers still be able to get takeout? Yes, if Abel Ferrara's mind-bending 4:44 Last Day on Earth is any indication.

The improvised dialogue takes hairpin turns, some less fruitful than others, holding onto just enough traces of structure to sustain the film's brief length.

The picture is also weirdly compelling, maybe most notably for the way Dafoe's character - who is, in this respect, perhaps a stand-in for the Bronx-born Ferrara - seems to be grappling less with the idea that the world is ending than that the city is ending.

One of Dafoe's deadbeat friends observes, ''The world's been ending ever since it started, man,'' and you may think the same thing about this movie.

The movie is probably best appreciated by devotees of the cult director, who has made some good films and some interesting ones (and some that are both): "King of New York," "Bad Lieutenant," "The Addiction." "4:44" isn't quite in that company.

An hour into Earth and we're waiting for the film to end, not just the planet.

Let's not make 4:44 Last Day on Earth sound cooler than it is. Compared with Lars von Trier's histrionically doomed "Melancholia," the film lacks any serious attempt to grapple with mortality.
What a disappointing movie. When I saw the trailer for this movie I got really excited, a movie about the end of the world with Willem Dafoe.

What a disappointing movie. When I saw the trailer for this movie I got really excited, a movie about the end of the world with Willem Dafoe. It should be great. But sadly it's not. It started out strong but just went downhill after that. It is very, very boring, it's really just focuses on the experiences of the two main characters as the clock counts down. You watch them have sex, paint (a lot), talk on skype (a lot), watch/listen to tv (Al Gore, the Dalai Lama, and some Buddhist monk), and briefly interact with a few other people. That's it. It is a very minimalist and concentrated movie the majority occurring in one location with only two people. I normally don't mind movies like this (slow paced, little dialogue), I really enjoyed "The Hunter" and "The American", both movie that are low on dialogue but high on atmosphere. But this movie is not like those movie, it is just very boring, and honestly I felt like it made no attempt at establishing any kind of atmosphere a movie like this should have. The movie is also (at parts) very preachy with regards to the reason why the world is going to end, and although I agreed with the message it was trying to convey, it felt like overkill. And I found it especially hard to believe that the world was going to end with all the normal day activity going on streets below their apartment. But the worst part of the movie was the ending, I don't want to spoil anything so all I'll say is that it did not do a very good job at ending the story. Really poor direction in my opinion, although this is my first Abel Ferrara movie so I'm not sure if that was his style. The only remediable factor was that Willem Dafoe goes a good job and the movie introduces us to a relatively new actress, Shanyn Leigh. This could have been a really great movie. It could have explored the human nature and how people might react to this scenario. But it didn't and suffered from, in my opinion, really poor direction. if you want to watch an end of the world type movie watch "Melancholia" (very slow but very powerful acting) or the Australian sci-fi "The Quiet Earth" (a very good end of the world/apocalypse movie) or a purely dialogue based movie one location movie try "The Man from Earth" and skip this movie. It will not entertain you in any way. 4.8/10.

…

Expand

This is a good intention to do a good sci-fi film, but is not the better example, have much mistakes, the story is same like the other films.

This is a good intention to do a good sci-fi film, but is not the better example, have much mistakes, the story is same like the other films. The cast have good (but not excellent) performances. If I need select between 4:44 Last Day on Earth and The Darkest Hour, I select this movie.

…

Collapse

this movie was sick - like frickin gross! dafoe was possibly old enough to be his costar's great-grandfather. i wouldn't be surprised if a

this movie was sick - like frickin gross! dafoe was possibly old enough to be his costar's great-grandfather. i wouldn't be surprised if a local ministry for children was on the casting individual's back. so creepy and uncomfortable watching certain scences. i'm sure for certain scences they had to have a fan blowing up his wrinkles to allow for her to breathe when he leaned down for a kiss (extremely disturbing). yuck, & i likED W, Dafoe. SO DISGUSTING.

horrible movie- i want my$ back.

…

Expand