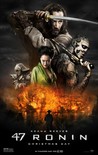 Starring:

Hiroyuki Sanada

,

Jin Akanishi

,

Keanu Reeves

,

Kô Shibasaki

,

Rinko Kikuchi

,

Tadanobu Asano

Summary:

After a treacherous warlord kills their master and banishes their kind, 47 leaderless samurai vow to seek vengeance and restore honor to their people. Driven from their homes and dispersed across the land, this band of Ronin must seek the help of Kai—a half-breed they once rejected—as they

After a treacherous warlord kills their master and banishes their kind, 47 leaderless samurai vow to seek vengeance and restore honor to their people. Driven from their homes and dispersed across the land, this band of Ronin must seek the help of Kai—a half-breed they once rejected—as they fight their way across a savage world of mythic beasts, shape-shifting witchcraft and wondrous terrors. As this exiled, enslaved outcast becomes their most deadly weapon, he will transform into the hero who inspires this band of outnumbered rebels to seize eternity.

…

Collapse
Director:

Carl Rinsch

Genre(s):

Action

,

Adventure

,

Drama

,

Fantasy

Rating:

PG-13

Runtime:

118 min
Please enter your birth date to continue:
You are not allowed to view this material at this time.
A multi-colored downer fantasy which combines bursts of imagination with a bleak worldview, resulting in something that rarely feels mainstream.

There's little sense of urgency, or — oddly, given the film's title — of scale. You never really think that the 47 are truly outnumbered, and the large action scenes are often just incomprehensible.

This one never quite decides if it wants to be a big, boisterous epic or a solemn retelling, and it nearly disappears into the crack between the two.

Rinsch, making his feature debut, shows the shortcoming of someone coming from the image-based world of commercials and advertising. There are moments of genuine beauty and a few terrifically eye-popping effects, but no feel yet for storytelling.

This botched vision accepts the warrior's nobility at face value and sees the story merely as a springboard for high-flying action and CGI special effects.

In the monumentally dull 47 Ronin, Reeves mumbles monosyllabic claptrap between dull action scenes. And it's a shame: At almost 50 years old, the actor allows this turgid, clanky flick to play to his worst stereotypes.
Wow. I am shocked by the bad critic reviews. I thought this movie was excellent. Compelling story. Special effects support but don't dominate

Wow. I am shocked by the bad critic reviews. I thought this movie was excellent. Compelling story. Special effects support but don't dominate the story. The acting is a bit wooden at times, but it felt stylistically appropriate and didn't detract from the movie at all. I think it is an intentional nod to traditional Japanese form, but what do I know?

Frankly this movie reminded me of one of the "Lord of the Rings" movies, Japanese style. It is a complete and intriguing universe. The cinematography and artistic direction feel coherent and well conceived. I feel like the characters were well developed and we understood their point of views by the end of the movie.

I loved this movie. The time passed without notice while I was immersed in it. I'd see it again.

…

Expand

This movie is very deep if you're willing to look for it.
Excellent story, similar vein as Hero and Crouching Tiger Hidden Dragon.
A lot ofThis movie is very deep if you're willing to look for it.
Excellent story, similar vein as Hero and Crouching Tiger Hidden Dragon.
A lot of the deeper dialogue happens through body language.

…

Expand

A great Japanese fantasy tale, filled with epic samurai upholding social order ahead of their own lives.The film does a great job of showing

A great Japanese fantasy tale, filled with epic samurai upholding social order ahead of their own lives.The film does a great job of showing that duty and honor to ones lord is far more important than adventure. By battling against those who would the rules of society as a weapon these men face the ultimate challenge, returning order to the world. The ending is suitable dramatic, but not what a western audience might expect. Where the film does fall short in its ability to explain to a western audience why the Samurai do what they do, those who are not knowledgeable about feudal japan will have a hard time understanding the motivations of the characters. 47 Ronin is a legendary tale in Japan culture, and this was a fun if not fantastical telling. Worth the watch, but just remember to do a little homework before you go for maximum enjoyment.

…

Expand

Pretty decent movie. I think it's just pathetic how people rate this movie bad, just because they hate Keanu Reeves for some **** reason.
GoPretty decent movie. I think it's just pathetic how people rate this movie bad, just because they hate Keanu Reeves for some **** reason.
Go and watch the movie, you probably won't be dying to buy it on dvd/blue-ray afterwards, but it's surely worth watching one time.

…

Expand

Surprised to hear that this didn't even do well in Japan. It's OK, but not the star among holiday films: Pedestrian, effects-laden,

Surprised to hear that this didn't even do well in Japan. It's OK, but not the star among holiday films: Pedestrian, effects-laden, fantastical retelling of a Japanese legend with fluent English by the mostly Japanese cast so no subtitles needed. One of those films that makes you wonder what happened to that Ted Logan we grew up on all charm and spewing catchphrases? What process of maturing turned Keanu Reeves into this stone-faced, emotionless guy? With few spoken lines and just the expressions on their faces, the rest of the cast could communicate tragedy, malevolence, or pride, but our half-breed is so lacking in personality that the actor who played his younger version could infuse his small part of the script with more feeling. Oh well, if you're like me you just came to be immersed in a small, if totally fictional piece of Japanese culture and not watch Mr. Reeves play another version of Neo.

…

Expand

I enjoyed the movie. It had good visuals and good casting, but the pg rating and the bad Japanese accents pretty much ruined it for me. This

I enjoyed the movie. It had good visuals and good casting, but the pg rating and the bad Japanese accents pretty much ruined it for me. This is a samurai movie with tons of sword fighting but not a drop of blood. This movie might appeal more to a young teen, i don't hate this movie but think it could have been so much better.

…

Expand

De las peores películas que e visto en toda mi vida, no gasten su tiempo y dinero viendo esta porquería. por donde la veas es una montaña de

De las peores películas que e visto en toda mi vida, no gasten su tiempo y dinero viendo esta porquería. por donde la veas es una montaña de mierda. Ya se los advertí.

…

Expand