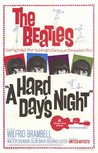 Director:

Richard Lester

Genre(s):

Comedy

,

Music

Rating:

G

Runtime:

87 min
Please enter your birth date to continue:
You are not allowed to view this material at this time.
A non-stop cinematic funhouse impossible to resist.

Make a date to catch this on the big screen and be rewarded with pure magic.

In a crisply restored print, it's as joyous as ever. We loved them - yeah, yeah, yeah. Now we can love them all over again.

It enables us to recapture exactly the delightful sensations felt all those years ago when we and the world were young and exciting together.

Conveys not just a joy in music and The Beatles, but a joy in cinema.

Still a marvel of verve and bone-dry wit, the movie has been treated kindly by time.

A wacky, offbeat piece of filming, charged with vitality, and inventiveness by director Dick Lester.
WOW!! Hilarious, amazing music...just one of my favorite films of all-time. I actually prefer "Help"(I like both the movie & music better),

WOW!! Hilarious, amazing music...just one of my favorite films of all-time. I actually prefer "Help"(I like both the movie & music better), but comparing the two very different films is certainly an "apples and oranges" sort of exercise. If you haven't seen this, do yourself a favor and enjoy!!! Blessings!!!

…

Expand

An essential masterpiece, both comedic and as a prototype for music videos decades later, taking The Marx Brothers approach one step further

An essential masterpiece, both comedic and as a prototype for music videos decades later, taking The Marx Brothers approach one step further with undeniably catchy musicianship, personality and charm to boot. When they can make the entire world basically forget about Elvis overnight, that's saying something.

…

Expand

Rather revolutionary in 1964, it showcases The Beatles at their madcap best. It is a typical day in their lives, screaming fans and wild

Rather revolutionary in 1964, it showcases The Beatles at their madcap best. It is a typical day in their lives, screaming fans and wild adventures. I admire the uniqueness of the film and the dry British humor. Very well edited, great music and a must for anyone interested in Fab Four.

…

Expand