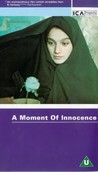 Summary:

Mohsen Makhmalbaf's film is based on his own experience as a young Islamic radical in 1974 when he attemped to stab a policeman and landed himself in prison for the act. Five years after his release from prison, the same policeman, then unemployed turned up to audition for one of Makhmalbaf

's films. Makhmalbaf and the policeman each play themselves in the film.

…

Expand
Director:

Mohsen Makhmalbaf

Genre(s):

Drama, Comedy, Romance

Runtime:

78 min
Turns into something like a screwball farce, an intimate, self-aware one.

A meditation-brilliant, humorous, and moving-on history and memory.

Some wonderful films have come out of Iran in the past few years, but A Moment of Innocence, by highly regarded director Mohsen Makhmalbaf, is too smug and too self-indulgent to count as one of them.