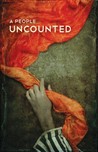 Summary:

A People Uncounted: The Untold Story of the Roma is a journey into the world of the Roma (commonly referred to as Gypsies)—a people who through the ages have been both romanticized and vilified in popular culture, politics and art, and who have endured centuries of intolerance and

A People Uncounted: The Untold Story of the Roma is a journey into the world of the Roma (commonly referred to as Gypsies)—a people who through the ages have been both romanticized and vilified in popular culture, politics and art, and who have endured centuries of intolerance and persecution. [First Run Features]

…

Collapse
Director:

Aaron Yeger

Genre(s):

History

,

War

,

Music

,

Documentary

Rating:

Not Rated

Runtime:

99 min
What Yeger stirs up is profoundly unsettling and deeply moving.

Hopefully, A People Uncounted will inspire many more projects that illuminate the history and modern-day reality of the Roma, at least as a corrective to what's been propagated through reality TV.

Although no single documentary could give a comprehensive account of the Roma's culture and history, Yeger's doc offers a sobering, often harrowing understanding of a people and the workings of genocide.

Much of this movie is composed of survivors who give harrowing accounts of their experiences, and their warnings about rising ethnic hatred in Europe should not be ignored. But those seeking to learn in depth about, say, the dialects and traditions of the Roma should look elsewhere.

This moving documentary provides a much-needed account of its little-known subject.

This globe-trotting debut effort by helmer Aaron Yeger and his producing team offers a vivid mix of visual evidence, historical commentary and survivor testimonies. It's less successful trying to integrate the struggles of today's Roma, which merits a docu of its own.