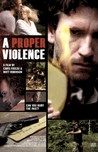 User Score
tbd
No user score yet- Be the first to review!
Summary:

After being released from prison, Morgan Edwards is striving for change and searching for a new life. Desperate for connection, he accompanies three strangers into the woods, and is forced to confront the demons of his past. When it is revealed that his new-found friends are connected to hi

s alleged crimes, redemption becomes secondary to survival. (Cinema Epoch)

…

Expand
Director:

Chris Faulisi

Genre(s):

Drama, Thriller, Crime

Rating:

Not Rated

Runtime:

102 min
That it eventually - if barely - succeeds is due more to the resilience of its actors than to the discipline of its makers.

Scrappy college-age filmmakers Chris Faulisi and Matt Robinson do a commendable job of establishing tone and tension in their debut feature, but things fall apart when words and feelings start to flow.

Weakly developed characters, a lack of substantive tension and an ending that's more startling than sound round out the minuses of this earnestly motivated but undercooked morality tale.

There's absolutely no fresh perspective here; just more juiceless samplings of what's already been cooked to death.