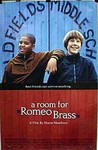 Summary:

The humorous, harsh, and movingly human coming-of-age tale of two 12-year-old boys told by screenwriters Meadows and Paul Fraser comes from their own shared childhood experience. (USA Films)
Director:

Shane Meadows

Genre(s):

Drama

,

Comedy

Rating:

R

Runtime:

90 min
Please enter your birth date to continue:
You are not allowed to view this material at this time.
The most poignant (if hard-hitting) depiction of childhood to show up this year.

An assured, graceful instance of effective screen storytelling, and Meadows draws splendid performances from his cast, especially from the young Shim and Marshall.

A quirky little film with an offbeat trajectory that rattles through the bones of story with eyes open to the texture of experience and the dimensions of character.

It is essentially a personal reminiscence of daily life that captures with an astonishing precision exactly what it felt to be a 12-year- old boy growing up in a particular time and place.

So low-key it could be mistaken for a throwaway. But Meadows's understanding of childhood fears and fantasies and the yearning, heartfelt performances he draws from his two young actors should not be underestimated.

An easygoing kitchen-sink comedy with an unsettling final act.
Meadows' understanding of everyday life portrayal is unparalleled. His partial use of improvisation induce a strong realism and hilarity into

Meadows' understanding of everyday life portrayal is unparalleled. His partial use of improvisation induce a strong realism and hilarity into every scene. Seemingly with ease, he blends this with serious, and sometimes sinister, undertones which possess the same authenticity. The result is an unpretentious, honest and overall, touching film.

…

Expand

Shane Meadows on form with this moving & occasionally disturbing film based, like most of his stuff, in the East Midlands.
Acting is top notchShane Meadows on form with this moving & occasionally disturbing film based, like most of his stuff, in the East Midlands.
Acting is top notch as you would expect but I was still in awe at how good Paddy Considine is as the unhinged yet childlike Morrell.

…

Expand