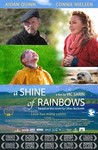 Summary:

Maire O'Donnell is a loving woman as rare as a double rainbow. Joyful, warm and caring, she adopts a young orphan named Tomas and whisks him off to a new home on remote Corrie Island, off the coast of Ireland. Maire shares with Tomas the joys of her island home and introduces him to the

Maire O'Donnell is a loving woman as rare as a double rainbow. Joyful, warm and caring, she adopts a young orphan named Tomas and whisks him off to a new home on remote Corrie Island, off the coast of Ireland. Maire shares with Tomas the joys of her island home and introduces him to the whimsical local folklore, including the secret of the seals, and teaches him that everything you need is inside of you- if you really look. (Sepia Films)

…

Collapse
Director:

Vic Sarin

Genre(s):

Drama

,

Family

Rating:

PG

Runtime:

101 min
A sweet, good-looking film about nice people in a beautiful place, and young John Bell is an appealing performer in the tradition of the Culkins. Quinn and Nielsen are pros who take their roles seriously, and Vic Sarin's direction gets the job done.

Modestly engaging despite several improbable, cornball moments.

Sincere performances and the beautiful gold-and-grey Donegal landscape can only go so far in A Shine of Rainbows, a family film that risks drowning in its own syrup.
Here is a lovely, realistic and sensitive film shot with a Co: Donegal backdrop telling a common story of the time. Beautifully filmed in what

Here is a lovely, realistic and sensitive film shot with a Co: Donegal backdrop telling a common story of the time. Beautifully filmed in what could be called as Glorious Technicolor, it shows family life on Corry Island in a year gone by and reveals all the trial and tribulations of a couple unable to conceive a child of their own who adopt an orphan. The father (Aidan Quinn) does not take to the so-called runt of the litter but his adopted mother tries to bring him round.
Great performances from Aidan Quinn, Connie Nielsen(the face of an angel), young John Bell and Jack Gleeson who plays the spoilt King Joffrey Baratheon from HBO's excellent 'Game of Thrones'. All in all, a great family movie with a moving story sure to tug at anyone's heart-strings..well worth a watch, if only to see the beautiful and ragged Donegal coastline.
Co-incidently, some scenes were filmed at Portrush(Co:Derry), Five Finger Strand, Malin Head, St. Conal's Hospital, Letterkenny and the old schoolhouse in Cooley, Moville.

…

Expand

Solid adult fantasy that is charming but fails to probe the depths of the human psyche in response to fostering. The focus of the film is the

Solid adult fantasy that is charming but fails to probe the depths of the human psyche in response to fostering. The focus of the film is the beauty of nature which includes death, the role of the family and the physical countryside but there is a sense of detachment which is cold and unromantic. Unfortunately it means that the film is forgettable, though the Irish coast is notably breath-taking as setting. Paradoxically disappointing and worthwhile. 67/100

…

Expand

A Shine of Rainbows is a stunning film, which is beautifully acted and it's story, while somewhat predictable, it's enjoyable and it deeply

A Shine of Rainbows is a stunning film, which is beautifully acted and it's story, while somewhat predictable, it's enjoyable and it deeply effected my emotions. This is a beautiful drama film. (Final Score: 7.15)

…

Expand