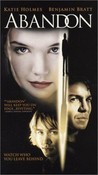 Director:

Stephen Gaghan

Genre(s):

Drama

,

Mystery

,

Thriller

Rating:

PG-13

Runtime:

99 min
Please enter your birth date to continue:
You are not allowed to view this material at this time.
The biggest surprise may be what the filmmaker doesn't show; he withholds a big dramatic payoff, so the audience must fill in the blanks.

Don't abandon Abandon. In the movies' long weekly line-up, it stands apart -- innocent of banality, and guilty of nothing more damning than intelligent effort that falls a tad short.

A moody, effective thriller for about 80 percent of the way, and then our hands close on air. If you walk out before the ending, you'll think it's better than it is.

Gaghan shows promise as a director, but Abandon leaves a lot of room for improvement.

With the flat characters and lifeless performances, it's a wonder that anyone in the audience can stay awake all the way through this dull and dreary production.

Crossing "A Beautiful Mind" with "Sex Kittens Go to College," first-time director Stephen Gaghan (he wrote Traffic) causes a head-on collision.
While Abandon is a film that has somewhat pleasing cinematography and a gorgeous actress, it fails to fully develop as a story, and it leaves

While Abandon is a film that has somewhat pleasing cinematography and a gorgeous actress, it fails to fully develop as a story, and it leaves some questions and mass confusion running in the viewers head. While many films use subtlety when it comes to some major points (ex: the original Stepford wifes, at the climax), the subtlety is too subtle in the end. It left me a little bit unsure of exactly what happened. I saw this movie in the theater with a friend simply because we wanted to see something and could not see The Ring, and it's a decision I truly regret. I do not usually have a negative opinion of a film, but this one managed to wrench one from me.

…

Expand