Release Date:

Mar 16, 2005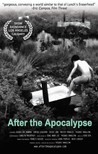 Summary:

Set in the aftermath of the Third World War, After the Apocalypse is a futuristic fable about five survivors trying to make sense of a New World after a devastating urban catastrophe challenges all their human needs. (Medama Productions)

Director:

Yasuaki Nakajima

Genre(s):

Sci-Fi

,

Drama

,

Fantasy

Runtime:

72 min
An impressive experimental movie, is practically a one-man show by Yasuaki Nakajima.

While short on narrative propulsion, Yasuaki Nakajima's low-budget, 72-minute After the Apocalypse turns out to be a surprisingly engaging ride.

Despite its spasms of brutality and a swerve into the macabre, After the Apocalypse is, by comparison with more recent films of this type (the "Mad Max" series), gentle at heart and terribly sincere.

A numbingly pretentious approach to a moldy premise -- a handful of strangers interacting amid rubble in wake of WWIII.