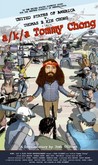 User Score
tbd
No user score yet- Awaiting 1 more rating
Summary:

Filmmaker Josh Gilbert follows the tragic and absurd journey of legendary counter-culture comedian Tommy Chong who in 2003 was indicted in an internet drug paraphernalia sting and wound up serving nine months in federal prison. (ThinkFilm)
Director:

Josh Gilbert

Genre(s):

Documentary

Runtime:

80 min
Chong does his time (nine months) and has the last laugh, emerging as a born-again activist-survivor of the culture wars.

This is a small film, but it moved me and made me angry. Both reactions, in this context, are worthwhile.

Tells the depressing, often ridiculous and generally enraging story of how and why Mr. Chong, an extremely laid-back and genial camera presence, ended up doing time in the minimum-security Taft Correctional Institution in Taft, Calif.

Leave the Visine and wrapping papers at home for A/K/A Tommy Chong, a surprisingly clear-eyed, sober account of what it's liked to be embraced by a culture, while loathed by the Powers That Be.
Film of the year. FIlm of the year. Tommy Chong, he's my homeboy.