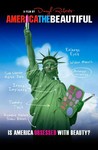 User Score
tbd
No user score yet- Awaiting 1 more rating
Summary:

Who actually benefits from this high-priced journey towards this ideal? Is corporate America's bottom line so important that it justifies a nation's psychosis? What are the true costs of our obsession with youth, beauty, and a slender physique? At the heart of "America the Beautiful" is the

is the story of Gerren Taylor, a teenager who went from being an innocent 12 year old girl to being one of America's next top supermodels. As she and her mother head down the windy road to stardom, viewers watch the dichotomy between Gerren's adolescent struggles and her adult "rights of passage" on the catwalks of Marc Jacobs, DKNY, Tommy Hilfiger and other top designers. Her tumultuous quest acts as a mirror to the American psyche, and it becomes apparent how the same beauty that could jump-start her career could ultimately destroy her young life. (First Independent Pictures)

…

Expand
Director:

Darryl Roberts

Genre(s):

Documentary

Rating:

R

Runtime:

105 min
America the Beautiful carries a persuasive message, and is all the more effective because of the level tone that Roberts adopts.

Mostly succeeds in unmasking the flaws of fetishizing skin-deep beauty.

Often insightful and more than a little depressing, this is a story that only gets uglier as it goes on.

With so many pointless detours ripping you away, the film feels as lamely digressive as the proverbial one-track guy whose head won't stop turning as each new temptation walks by.
I focused on the message which I felt was very clear.