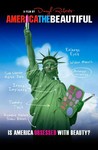 Summary:

Who actually benefits from this high-priced journey towards this ideal? Is corporate America's bottom line so important that it justifies a nation's psychosis? What are the true costs of our obsession with youth, beauty, and a slender physique? At the heart of "America the Beautiful" is the

Who actually benefits from this high-priced journey towards this ideal? Is corporate America's bottom line so important that it justifies a nation's psychosis? What are the true costs of our obsession with youth, beauty, and a slender physique? At the heart of "America the Beautiful" is the story of Gerren Taylor, a teenager who went from being an innocent 12 year old girl to being one of America's next top supermodels. As she and her mother head down the windy road to stardom, viewers watch the dichotomy between Gerren's adolescent struggles and her adult "rights of passage" on the catwalks of Marc Jacobs, DKNY, Tommy Hilfiger and other top designers. Her tumultuous quest acts as a mirror to the American psyche, and it becomes apparent how the same beauty that could jump-start her career could ultimately destroy her young life. (First Independent Pictures)

…

Expand
Director:

Darryl Roberts

Genre(s):

Documentary

Rating:

R

Runtime:

105 min
America the Beautiful carries a persuasive message, and is all the more effective because of the level tone that Roberts adopts.

Mostly succeeds in unmasking the flaws of fetishizing skin-deep beauty.

A sprawling, messy, frustrating and impassioned examination of the psychological fallout from America's obsession with a highly artificial and all-but unattainable standard of beauty.

Takes its point -- our nation has an unhealthy obsession with beauty and physical perfection -- and uses it as a bludgeon.

Wide-ranging educational documentary attaches itself to the rise and fall of a 12-year-old fashion model, and indeed, its sincere, cautionary tone seems best suited to younger auds and small screen exposure.

Gerren's story is fascinating, but Roberts dilutes it by going off on tangents about unsafe cosmetics and phony plastic surgeons. Both topics need exploring - just not here. There's more than enough drama in Gerren's life.
I focused on the message which I felt was very clear.

la pelicula es mala.... simplemente carece de todo sentido posible y la actuacion de jessica simpson da fe que como actriz es una de las

la pelicula es mala.... simplemente carece de todo sentido posible y la actuacion de jessica simpson da fe que como actriz es una de las peores que he visto...

…

Expand

This was a pretty boring movie. To watch it until the end I had my ear phones in pretending to make the characters sing the songs I was

This was a pretty boring movie. To watch it until the end I had my ear phones in pretending to make the characters sing the songs I was listening to. That's how bored I was.

…

Expand