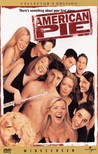 Starring:

Chris Klein

,

Jason Biggs

,

Thomas Ian Nicholas

Summary:

Four high school friends enter into a pact to lose their virginity before graduation, encountering apple pies and other embarrassing speedbumps along the way.
It's painful, it's real, and it's probably the funniest thing you'll see this year...a teen sexploitation classic.

Unusual in its ability to mix bodily functions humor with a sincere and unlooked-for sense of decency.

It is not inspired, but it's cheerful and hard-working and sometimes funny, and--here's the important thing--it's not mean.

Cheesy homage to a level of horniness Austin Powers could only imagine will be a dream movie for many a teenage boy.

A limp excuse for a coming-of-age flick, more interested in sexploits than sex, more adept at gross-out than girls.

Gross and tasteless...this high-school romp mixes the gross and tasteless with sentimental mush.
Pie tells the tale of high school seniors searching for sex, love, and acceptance in the world. Yes, the film is raunchy and crude, but it is

Pie tells the tale of high school seniors searching for sex, love, and acceptance in the world. Yes, the film is raunchy and crude, but it is also hilarious from start to finish, and has a warm spirit and well developed characters.

…

Expand

If you hadn't seen this movie yet you should see it right now. Of course im not insisting you guys to watch it if you don't like teen movies

If you hadn't seen this movie yet you should see it right now. Of course im not insisting you guys to watch it if you don't like teen movies but its classic of this kind of comedy.I mean it! This might look little bit stupid because its like a "stupid comedy" Thats how i like to call movies like this.Actually they aren't stupid at all it's very hard to create jokes like this and make a movie like this.But I could hardly recommend this movie if you are looking for different kind of comedy something opposite from teens movie like good rated movie with good well known actor and a good storyline or a family comedy because it would be pretty weird watching movies with your children or with your parent (depends who you are). This movie is way different is about teenagers life, and
their jokes. I could say this was one of the best of this kind of
comedy i have ever seen! if someone asks for a comedy about teens first
movie i say is "American pie". This movie would be best if you're
looking for something really easy and very hilarious to watch as I
said already. Thanks for reading

…

Expand

An original raunchy, cheerful teen comedy that has comical, funny and interesting characters gives you belly laughs and a bit of charm, even

An original raunchy, cheerful teen comedy that has comical, funny and interesting characters gives you belly laughs and a bit of charm, even though it's cliche'd but the film is self aware of it. The performances by Jason Biggs, Chris Klein, Sean William Scott and Thomas Ian Nicholas are scintillating and comedic gold under the direction of Paul Weitz (About A Boy). Weitz has perfect comedic timing which elevates the screenplay by Adam Herz. The film's a winner and makes you forget about those other teen genre films, which this film is my favorite high school film and makes you want to be in high school again. Grade A

…

Expand

A god damned classic that every teenage boy is bound to love. Screw the critics when it comes to movies like American Pie, of course older

A god damned classic that every teenage boy is bound to love. Screw the critics when it comes to movies like American Pie, of course older people will **** all over it because they are just mad they aren't young anymore.

…

Expand

The original American Pie is certainly a classic comedy on the must see list, but it's not the best of the seven American Pie inspired films.

The original American Pie is certainly a classic comedy on the must see list, but it's not the best of the seven American Pie inspired films. Personally, I preferred the second one too the first, as everyone was much more relaxed and knew each other, making the movie flow better. Don't get me wrong, this one certainly had it's funny moments, but in my estimation it wasn't as good as the second one. Jason Biggs Alyson Hannigan are hilarious, but for all they bring to the table, bad actors like Eddie Kay Thomas and Chris Klein take away, making the good performances moot. American Pie is a classic teen comedy about sex and it ushered in a new era in comedy that's still relevant today. It has the raunchy, crazy, good looking youth we see in today's comedy, but unfortunately also has some really lame jokes and bad acting, that thankful went out with the nineties.

…

Expand

American Pie came onto the scene shortly before the new millennium, and with the new millennium came a plethora of "college age" films. It was

American Pie came onto the scene shortly before the new millennium, and with the new millennium came a plethora of "college age" films. It was not the first of its kind, but it did help shape the way films of the like would be made for years to come. It may be crude and uncalled for from beginning to end, but it has delightful characters, a decent plot-line, and a stellar soundtrack. It is far from a cinematic masterpiece, but it is an easy-going watch for anyone that enjoys a good comedy.

…

Expand

this is a porn not a movie basically every 5 seconds someone is having sex or there are boobs this movie is not funny at all im a teenager and

this is a porn not a movie basically every 5 seconds someone is having sex or there are boobs this movie is not funny at all im a teenager and i would never want to be do%&he bags like the people in this movie and not to mention most of the jokes are disgusting because people are like puking everywhere and making people drink horse sperm its horrible but ill give it a 1 for the boobs lol

…

Expand